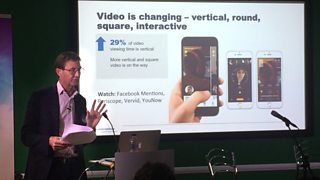 "This is not just about smartphone addiction any more, it's about those thousands of moments when it is possible to interact with media and communications of some kind, whether that's personal or professional."
That was Reuters Institute research associate Nic Newman, speaking at the recent Digital Cities Bristol conference, attempting to sum up the size of the shifts in technology trends now affecting the business of factual storytelling.
The inexorable rise of social media as a source for news has been highlighted in the latest Reuters Institute Digital News Report, of which Newman was lead author. But some of the tech trends he forecast at the beginning of the year were his starting point in Bristol, including:
Increased use of mobile phones to access content
Content curation instead of creation
Wearables
Messaging as content
The rise of explainer charts
Mobiles, wearables and messaging are all "accelerating the trend towards bite-sized, glanceable content, and away from longer content," he observed. "So information needs to fit in to how people actually live their lives on mobile phones."
The growth of social media as a way of both distributing and discovering content, plus the notable rise of online video, were other key trends affecting storytelling.
"It's really the combination of mobile with social media that's been so powerful and transformative," said Newman. Giant networks like Facebook and Twitter have effectively become "alternative media distribution systems".
He added: "At the same time as we're coalescing around really large systems that everyone is on and has access to, we also see fragmentation in social networks in all directions. " (Think Vine, Instagram, Pinterest and Snapchat alongside the growth of messaging apps, like WhatsApp, Line, WeChat, Viber and others.)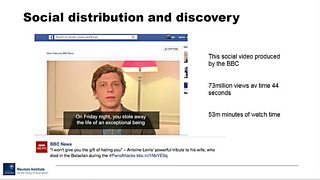 There was also a reminder from former BBC News online pioneer about the power of social distribution. Last November the BBC News Facebook video (above) of a husband offering forgiveness to the terrorists who killed his wife in the 2015 Paris attacks had over 73 million views.
"It's a very emotional video that really connects with people, it demands to be shared," said Newman. "It had 53 million minutes of watch time. That single video was watched more in terms of minutes than the rest of BBC's online coverage of the attacks put together."
Staying with video, he played a clip from the New York Times feature Bieber, Diplo and Skrillex Make a Hit (below) to show how footage can be watched in both horizontal and vertical formats, due to its framing and the use of visual effects on a separate layer. "It's one of the first of what people are calling 'adaptive' videos," Newman explained.
Producing adaptive content is an important consideration as we move into an era with more vertical videos, he said. Almost a third of video content is already viewed in upright display and square videos are also popular, as seen in Facebook Live video streaming (which is used by BBC News) and BuzzFeed Tasty.
Storytelling is also moving into virtual reality and immersive video. Newman highlighted the Guardian's first foray into VR, 6x9: A virtual experience of solitary confinement, as well as the New York Times collection of immersive videos.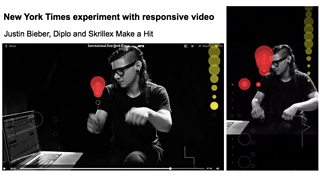 There were market forces at play too. Ad-blocking is thought to be growing by more than 40% a year and the trend away from ad-based models was producing "a positive refocusing on quality and engagement," he said. And since people now spend shorter periods of time accessing information, journalists have to compete harder for audiences.
"That's why in the new formats, videos are so important, because they tend to engage people for longer. That's why publishers are investing in them."
Because audiences are spending more time in mobile apps and less on the open web, journalists needed to think strategically about "changing the content mix" – more of that glanceable content that works so well on mobiles and other ways of "compressing stories in a more visual way".
But interestingly, Newman also saw signs of innovation in long-form journalism. The reason? People coming into the media industry now are not constrained by a legacy of how stories should be reported.
In the end, audience engagement and loyalty will depend on the quality and distinctiveness of the content, he concluded.
"Instead of broadcasting at people, this is now a peer-to-peer internet where actually it's your loyal users and the quality of the content itself that is driving reach. You have to produce stuff that is going to stand out from the crowd, that is truly distinctive in terms of either content or the combination of the content and the experience."
Only another seven months or so to wait for Newman's predictions for 2017.
Nic Newman has been lead author of the annual Reuters Institute Digital News Report since 2012.
Digital predictions 2016: Year of audience engagement, online video and bendy phones
BBC Academy blogs by Nic Newman
The Academy section on digital journalism