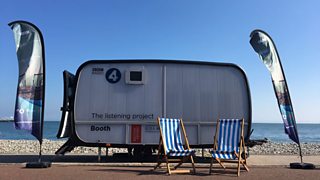 The Listening Project's touring booth, where many conversations are recorded
The Listening Project collects stories and conversations, for radio and national archive, that provide glimpses of contemporary lives - from living with Alzheimer's to falling in love in the front seat of a Reliant Robin. In a milestone week for this BBC-British Library partnership, we asked a producer at the heart of the project what she listens out for in deciding what will make great radio?
One thousand conversations! And I've heard more than 900 of them.
Although I'm the Radio 4 producer of The Listening Project, I think the word curator better describes what I do. All over the nations and regions, our specially trained producers gather conversations to be archived in the British Library, supplying a snapshot of our time to help future generations understand what we were about in the early 21st century.
This week, five years into the project's life, we're celebrating the delivery of our 1000th conversation to the British Library Archive with a special series on Radio 4, looking at how this growing archive is being used.
Radio 4 listeners will be familiar with the three-minute snippets that are broadcast throughout the week in the programmes introduced by Fi Glover. But perhaps they don't realise that the unedited conversations are 45-60 minutes in length. I'm grateful that the mammoth cutting job isn't mine.
The local producers are better placed; they note the highlights at the time of recording, they identify the heart of the exchange, carve out the meat of it. Sometimes a second ear can help; we engage in an iterative process, worrying away at the edit, batting it back and forth. We've been known to reach version eight, but more often it's the first or second that works.
Not all the original recordings get edited; a producer can tell when a conversation that might provide gold for a social history researcher just won't make good radio.
However, the vast majority do get edited, and most of them get on air, either on the local station or on Radio 4. Some are heart-breaking, some are dumbfounding, some raise a wry smile, some elicit a guffaw.
It's hard to identify what signals, on first hearing, that this one works. Firstly, it has to be genuine; if you hear a husband and wife clarify, "it was when our daughter Catherine came home from holiday", you know they haven't forgotten the microphone and that they are thinking of the radio audience. In a natural conversation they'd have said "when Catherine came home that time…"
It has to be organic and it has to be mutual. If one person is asking all the questions, it's not a Listening Project conversation. We frequently get requests to record a conversation "because my elderly neighbour has led such an interesting life and I really want to capture her memories before it's too late". To which I reply that we are not a traditional oral history enterprise.
The Listening Project was conceived, in partnership with the British Library, as a record of the way people relate and live their lives at this moment in time. Our conversations may reveal memories but the past is not the focus - it's just a touchstone for attitudes today, an acknowledgement of change and where we are now. We're about past experiences framing current lives.
And we never focus on just one contributor's story; at the end of the conversation we aim to know as much about each of the participants, and their relationship.
I like to typify our conversations as similar to one you might overhear as you stand at the bar, waiting for your drinks. Just outside your field of vision you hear two people talking: you're intrigued; you wonder how they know each other, what event brought them so close.
Most of all - as you leave the bar with your drinks - you wonder what came next…
Listening Project conversations don't have a beginning, middle and end: they are glimpses you catch in passing. You move on, but they've left their mark.
The Listening Project One Thousand, 10 April. 12:04, BBC Radio 4 and on iPlayer Radio
"Every one, a little visual feast": Hear Fi Glover's picks in The Listening Collection
How to create stories with sound
Making and editing a radio package