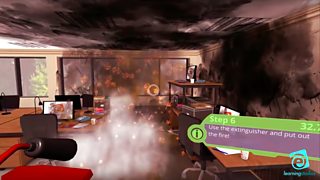 Fire training using virtual reality
The current excitement around virtual reality (VR) can sometimes make it sound like the answer to almost any media challenge. But are those VR goggles just a more expensive brand of rose-tinted spectacles?
At last week's Learning Technologies Summer Forum exhibition, VR kept on popping up as a new medium for training. Several speakers reminded their audience that research shows that most of what we learn at work is on the job, rather than in formal training. It's experience that sticks in the mind rather than what's learnt in a classroom or during online learning.
And that's the big opportunity for VR. Users so often take off the headset and talk about having "been transported", "lost a sense of where they were", in short having had an experience rather than simply consuming a piece of media.
That was demonstrated vividly while I was at the eLearning Studios stand. A woman was trying out some of their content on a VR headset. As the rest of us talked quietly, the woman let out a heart-rending scream. Visitors looked shocked. "Oh, don't worry," I was told, "she's trying our Working at Heights training." It was clearly having an impact.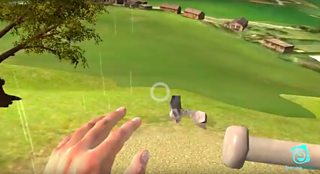 Aaaaaaaaagh!
The point I took from the conference was that VR isn't the answer to everything, but can work brilliantly if it's used to offer those kind of visceral experiences. If you want people to behave differently in the way they would after they'd been exposed to physical and mental challenges in the real world, VR can help.
So, how would you put out a fire in an office? How can you get used to speaking in public, to learn to look your audience in the eye and speak slowly? Those are the kinds of challenges which VR can simulate effectively.
I asked John O'Hare, Head of Pure Research into Education at Nokia, who designed and commissioned the Working at Heights and public speaking projects from eLearning Studios, to explain his thinking about what VR is good for
John O'Hare, Head of Pure Research into Education, Nokia
Another feature of VR is its ability to bring multiple users into the same virtual world. Nitin Thakrar, managing director of eLearning Studios, explained:
Nitin Thakrar, managing director, eLearning Studios