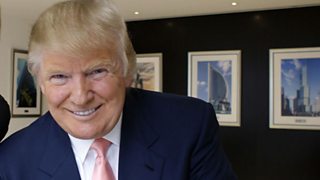 The 'Goldwater Rule' is an obscure ethical edict, issued to the US psychiatrists in the 1970s, restricting what medical professionals should tell the media about someone's mental state.
Since Donald Trump entered the White House, its validity is being challenged in the very public debate that politicians, journalists, clinicians and others are having about the psychological wellbeing of the 45th president.
In the US at least, psychiatrists are strongly discouraged from offering professional opinions about individuals they haven't examined face to face.
The reason goes back to 1964, when Fact magazine polled psychiatrists on the mental fitness of the Republican presidential nominee, Senator Barry Goldwater. Almost 2,500 people responded. Just under half said they believed he was unfit for office. Goldwater sued the magazine for libel - and won.
As a result, in 1973 the American Psychiatric Association added what has become known as the 'Goldwater Rule' to its ethics code (section 7.3). It says: "It is unethical for a psychiatrist to offer a professional opinion unless he or she has conducted an examination and has been granted proper authorisation for such a statement."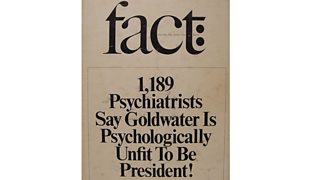 Psychiatry and the media have come a long way in the last 40 years and the question of whether Goldwater still holds water - where Donald Trump is concerned - is increasingly being asked.
While some voices, in both the media and on Capitol Hill, have been outspoken in raising concerns about the president's mental state, most journalists and politicians lack the formal training to make a clinical diagnosis. Only a mental health professional can do that.
But journalists should, and are, considering how they approach the discussion. Columbia Journalism Review columnist Lee Siegel is one who takes the view that journalists shouldn't shy away from raising legitimate questions about President Trump's behaviour.
"The mental condition of the president of the United States is as legitimate a subject of journalistic concern as it is of everyday conversation" Siegel says.
While stressing the need for balanced reporting, he believes the media is failing in its duty if it ignores questions over the president's mental fitness altogether.
"At this point, not to do so, especially for journalists, is a betrayal of the public trust, a denial of human nature, and an insult to posterity," he argues.
Here in the UK, a set of guidelines published by the charity Time for Change urge caution on this same issue. It aims to encourage the responsible reporting of mental health issues and warns against using terms like "unhinged" or "mad" which can reinforce stereotypes and stigma.
It also advises against the temptation to ask experts to provide a diagnosis on air - a view supported by the University of Glasgow's Professor of Psychiatry Daniel Smith.
Speaking to The Independent, Smith said: "It's considered not very ethical or good practice to comment on things like this if you've never assessed the individual. It's also important to remember that there's a difference between personality disorder and mental illness."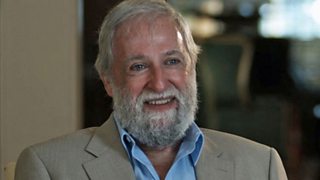 Frank Ochberg thinks it's time for psychiatrists to contribute their expertise
So should mental health professionals now be given more freedom to discuss the behaviour and motivations of public figures in the press?
I spoke to says Dr Frank Ochberg, a psychiatrist with a particular interest in the way journalists report on mental health issues. (You can listen to the interview here.)
He believes psychiatrists should be able to enter into an informed debate with the media and the public about the psychopathology of public figures: "Merely being a psychiatrist shouldn't eliminate a person who has a basis for contribution to a serious conversation from joining that conversation."
An increasing number of mental health professionals agree. In a letter published in the New York Times, more than 30 psychiatrists, psychologists and social workers argued that the Goldwater Rule has resulted in "a failure to lend our expertise to worried journalists and members of Congress at this critical time". The letter warned: "We fear that too much is at stake to be silent any longer."
That puts the authors firmly at odds with the American Psychiatric Association. Last year, the APA's president, Dr Maria Oquendo maintained that breaking the Goldwater Rule was "irresponsible, potentially stigmatising, and definitely unethical."
Anyone attempting to analyse President Trump only has his public persona to draw conclusions from. Who's to say the character seen in rallies and news conferences is the 'real' Donald Trump?
For Ochberg, even President Trump's outward face can offer insights to inform an experienced mental health professional. "I believe I can tell a lot when there's been so much portrayed on television by the person himself," he says, though falling short of offering an on-the-record diagnosis.
Some experts are now proposing a new framework to guide relations between psychiatrists and the media. Others fear any change could blur the boundaries between clinical and political judgments.
Ochberg concludes there's a need for change: "Psychiatry has a role in the public conversation about the character of President Donald Trump and psychiatrists should speak from their knowledge," he told me.
"They should be careful, though, not to diminish the debate by throwing epithets or diagnostic labels around that are meant to insult rather than to clarify a pattern of behaviour.
"Ethics demands that the psychiatrist who has something to contribute make that contribution rather than freeze and silence the voice of psychiatry because it has been caricatured and used badly in the past."
Stuart Hughes is an Ochberg Fellow at the Dart Centre for Journalism and Trauma.
Other Academy blogs by Stuart Hughes
BBC values: The public interest
Who needs the press? Reporting Trump could be a very different assignment