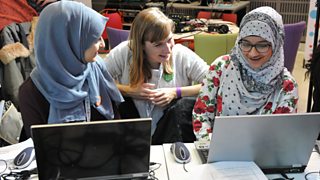 On 8 December BBC 100 Women and Wikipedia staged an edit-a-thon. The goal was to get more women editing Wikipedia, adding profiles of women, and taking steps to redress the gender imbalance on the world's fifth most visited website.
On that day, the #100womenwiki broke the record for most profiles added to Wikipedia at a single event. More than 400 women were added, 100-plus women were registered as editors and edits were made in 15 languages.
This is why we did it. And how:
What's the problem?
You hear someone talking about Helen Nibouar. You don't know who she is. You look her up. She's not on Wikipedia. There is no enticing blue hyperlink under her name. She doesn't make her way into your next conversation. She's not listed in Who's Who. She never makes it into the pages of a carefully glued-together school project, covered in glitter. History trundles on.
If you count all the profiles of individuals on Wikipedia, 83% of them share one characteristic: they're male.
It's the starkest statistic to illustrate a yawning gender gap on a site which, for better or worse, is billions of people's first port of call for encyclopaedic information.
Men aren't mean, they're not bad, they're not malicious… but they are editing Wikipedia. And the content reflects that. Wikipedia strives to be the sum of all human knowledge. Absolutely anyone can edit Wikipedia, but currently only 15% of editors are women. So fewer women are profiled, the language skews male, and articles that are considered 'women's issues' are substantially shorter.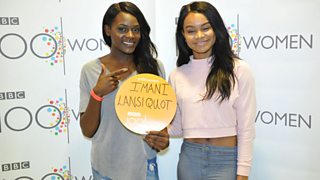 British Olympic sprinter Daryll Neita nominates world junior champion Imani Lansiquot
Edit-a-what?
Edit-a-thons are totally a thing. I first came into contact with the concept in an email from Art+Feminism a couple of years ago, who were looking to stage a meet up to tackle the dearth of female artists on Wikipedia. Other edit-a-thons might focus on women of colour or LGBTQ issues, for example.
I really wanted to run an event at the BBC. I knew so many people who knew (and double-sourced) so many facts, people who complained that Wikipedia was "inaccurate" and then did nothing to change it. Mount an extracurricular activity, I thought, something I could invite journos to at a lunchtime session, in the hope that they would pass the idea on to their friends.
Then I suggested it to BBC 100 Women editor Fiona Crack as something that we might run in the season. And in her hands and those of the team (Lara Owen, Ahmen Khawaja and Genie Pearce), it sort of grew: exponentially; three dimensionally; internationally; multi-lingually; 'record-breakingly'.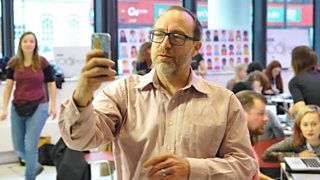 Wikipedia founder Jimmy Wales can't resist a selfie at the #100womenwiki edit-a-thon
Wikipedia and the BBC
First port of call was an email straight to Jimmy Wales himself. He is personally committed to making his brainchild as representative as possible. He responded directly and put us in touch with the Wikimedia foundation, the non-profit organisation that encourages the growth and quality of Wikipedia and its satellite projects. It's their job to be passionate about making a better site for all. They come with a network of volunteers and an international community of editors, familiar with edit-a-thons.
Next were the logistics of finding a space, inviting people along and thinking of a way to ensure we had a global and multi-lingual impact. That's what the BBC World Service is best at. The team reached out to the Wikimedia communities around the world and put them in touch with BBC language service producers to stage their own events.
Navigating the relationship between the two organisations was interesting too. Wikipedia shares some of the BBC's core values, like striving for impartiality and avoiding conflict of interest. It too doesn't carry advertising but their restrictions on rights are different - articles and images are licensed under Creative Commons. The BBC is an international broadcaster and as such, naturally has some control over its content, including branding. This led to some interesting conversations.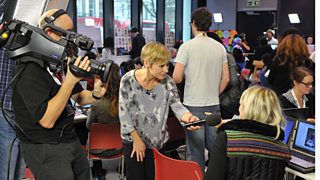 BBC World News presenter Philippa Thomas interviews editors at the London event
On the day
On 8 December, the BBC and Wikimedia's own volunteers commandeered the Radio Theatre, Media Cafe and 7th Floor collaboration zone in London's New Broadcasting House. Beyond the building, BBC Monitoring and BBC Media Action ran events, as did BBC bureaux in 13 countries.
Members of the public, school children, university students, BBC specialists and invited guests - all female - were funnelled through a brief training session by Wikipedia volunteers and BBC trainers then put to work, using their new Wikipedia editing skills. Everything counted as improvements - from correcting spelling, to translating profiles from one language to another, to adding content to existing articles, to opening a new profile. Every hour, on the hour, for 12 hours a new group came through.
They were also supposed to leave! But the vibe proved irresistible. After the first two sessions, the rooms were overflowing, thrumming and buzzing with chat, live TV and radio broadcasts, interviews, and of course furious typing from new editors.
Participants had been invited to think in advance of women they'd like to add to Wikipedia, trying to make sure they met notability criteria (harder than you'd think). Resources were made available with suggestions for names to add - many taken from Women in Red lists and previous 100 Women contributors, 50% of whom weren't already profiled. Banks of computers were set up, trainers and volunteers were primed, sweets were laid out, and a hashtag was coined.
#100womenwiki and the BBC Live Page collected updates from all the events and made for great reading that day.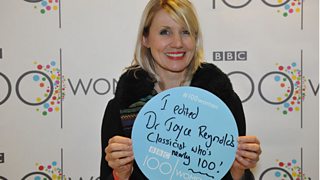 Broadcaster and historian Tessa Dunlop chose to edit an entry for classicist Joyce Reynolds
It's about taking part, really
For me, the results of the day felt surprisingly personal. I love the internet. I spend a lot of time there. I love it for the bonkers cats, brilliant blogs, and demented memes. But I also love it for the digital innovation, new communities, and for the exceptional resource it becomes when people around the world band together to do something nigh-utopian, like Wikipedia. The fact that we could stage an event that made the internet - well - even better, felt colossal.
Some of the profiles, in all honesty, will be taken down. Notability wasn't always met, and once an article is published, it's subject to others' scrutiny, endorsement and editing. This is how the site works. Ultimately, this is part of the learning process. Profile counts are great, but the greater achievement is to have made millions of women aware that they can participate at all. And this extends beyond just Wikipedia.
If 2016 was about feeling helpless in the face of news, I genuinely like to think our edit-a-thon provided women around the world with an easy, practical way to take a little control, and the confidence to put our skills to use to tackle a problem head on.
The best part is that it didn't end on December 8. Open up Wikipedia to any page right now. See the link on the top right where it says 'edit'? That button is for you.
Oh, and Helen Nibouar? At 99, she's one of four surviving WW2 cryptographers who worked to obscure sensitive US military information. And as of last week, her Wikipedia page is right here.
Deborah Basckin was until recently a special projects producer at BBC World Service and created the Wikipedia event while in that role.
All photography by Henry Iddon.
Blog: Seven things I learned during #100women 2015