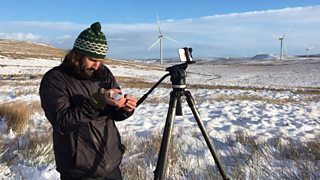 Freeze frame: Kevin White cuts out new filters for his iPhone camera on a chilly wind farm
"Why on Earth would you want to do that?" was the response of most of my colleagues when we first mooted the idea of shooting on a smartphone.
We were in the first week of production for a new 60-minute science documentary for BBC Four about the rare elements that underpin our modern lives. Smartphones were likely to feature heavily because they contain over half the elements on the planet. To prove just how smart rare elements have made our phones, we wanted to shoot the entire programme on one. How hard could it be?
We soon realised the size of the challenge we'd set ourselves. BBC Science has a reputation for high-end, beautifully-shot films and this one should be no different. The whole point was to showcase an impressive new technology. If we ended up with something that looked like it had been shot on a phone, we would have failed.
BBC journalists sometimes shoot news packages on phones, and the feature film Tangerine was shot on iPhone 5, so I knew good picture quality was achievable. But Tangerine was filmed in the LA sunshine and great light can cover a multitude of sins. We were planning to shoot in the UK in the depths of winter. Were we doomed to fail?
To maximise our chances of success we'd need a top-end camera operator. After all, the choice of camera is just one part of what makes a beautiful film. Framing, composition and lighting are key, along with visual flair and creativity.
I had in mind Kevin White, a camera operator I'd worked with before, but I wasn't sure if he'd take on a job that required leaving his beloved lenses at home and shooting on a phone. Thankfully he embraced the idea with enthusiasm, but it wasn't long before doubts started to creep into his mind.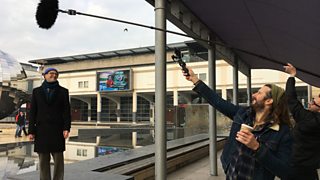 Coffee in hand, Kevin White and sound recordist Andy Paddon film presenter Mark Miodownik
We decided on iPhone 7 Plus because it has two built-in lenses, a massive 256GB storage capacity, impressive battery life and waterproof handset - useful when filming outdoors in winter. The Filmic Pro app was vital for manual control of focus, exposure and converting the phone's native 30fps (frames per second) to 25fps, as required for UK broadcast.
We had the budget for a sound recordist so we decided to record audio remotely and use a clapperboard to sync in post-production. With two new phones fresh out of their boxes we set out to shoot some test footage.
Initial tests didn't go well. In low light the picture was very noisy, there was some distortion probably caused by converting from 30fps to 25fps. I wanted to shoot most of the film handheld, but our test clips were so unstable they were unusable. Plus, we found that although the Filmic Pro app provided a great deal of manual control, it was still a long way from a broadcast camera.
ISO (the camera's digital exposure control) could only be adjusted within a limited range. Broadcast cameras can be fitted with matte boxes to insert polarisers, neutral density (ND) or other filters to aid exposure, but nobody has invented a miniature matte box for the iPhone.
On top of this the BBC's technical department was not convinced a camera with a tiny sensor would qualify as full HD (high definition). With only a few days to go before filming, I wanted to pull the plug, but my executive producer Jonathan Renouf was determined not to give up. This was to be the first BBC documentary shot on a smartphone and we had a strong editorial justification to take the risk. It was an opportunity not to be missed.
One of the more glamourous assignments: filming at a sewage farm
While most people were eating mince pies over the Christmas break, we were running more tests and trying out different accessories. Our cameraman fell in love with the DJI Osmo Mobile stabiliser, which provided beautifully smooth handheld moves.
We tested out the post-production workflow and ran the footage through a transmission simulator machine. It held up well and crucially it qualified as HD. We knew there would be limitations, but we decided to go ahead.
Our final kit list looked like this:
● iPhone 7 Plus x 2 (backup phone for battery and storage)
● Olloclip lenses (wide, telephoto, macro)
● Lightweight tripod and iKlip tripod adaptor
● DJI Osmo mobile
● Usual lighting kit
● Filmic Pro app (we shot HD 1080p, 50mbs)
The first few filming days went far better than I expected. We were shooting demos and PTCs (pieces to camera) indoors and the phone didn't slow us down or limit what we could shoot.
We also discovered some major benefits. Without big, intimidating cameras our contributors were relaxed and gave better performances. The lightweight kit was really liberating, we could move around freely, get up close to objects and film easily in confined spaces. I missed having a monitor but the phone has a big screen and playback is relatively quick so it was perfectly workable.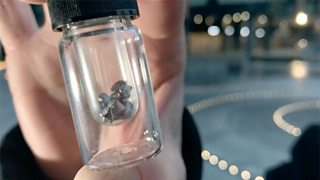 Close up of a lithium sample
We hit a problem shooting at a wind farm in Glasgow in the snow (top image). Exposing for the bright white landscape was hopeless on the phone. Our cameraman had cut tiny circles of ND filters to slide behind the Olloclip lenses, but when he opened the box a gust of wind scattered the lot like confetti.
With freezing hands he cut new pieces of ND whilst cursing the tiny, fiddly lenses, but in the end the footage looked fantastic. On the whole anything we shot outdoors looked great.
The biggest difference we noticed was the number of available lenses - or rather the lack of them. Shallow depth of field and long lens shots were out of the question, and to shoot close-ups we had to be physically very close, but the phone's built-in lenses do not have good close focus.
The phone could shoot 240 fps so I planned some slow motion beauty shots of the materials we were featuring, but at 120 fps the resolution fell to 720 pixels and the drop in quality was really noticeable.
In the edit we crushed down the blacks and added filters and other effects to hide the noise and the low resolution. We ended up with some really quirky, stylised beauty shots that we wouldn't have got if we'd used a different camera. For me, the main benefit of using the phone was that it forced us to be more creative and do things differently.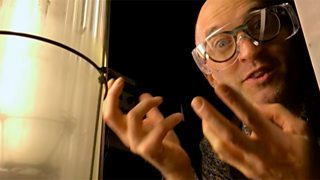 Indoor piece to camera with presenter Mark Miodownik
Our biggest hitch came on our last day. It had gone so well up until then we'd become over confident. We were filming an interview in an open mine in Devon when a "storage almost full" warning flashed up. We had a spare phone with us, but pressed for time and knee-deep in mud we pushed on.
The timecode ticked over happily but the phone wasn't saving the clips and we lost a significant chunk of the interview. We'd recorded the audio separately and shot lots of GVs (general views) so we got away with it, but it was a close shave.
We filmed for nine days without using a broadcast camera, there's no doubt there are limitations but we worked around them and in the end it was a small price to pay for trying something new. Would I do it again? Absolutely.
Secrets of the Super Elements, presented by Mark Miodownik, is on BBC4 at 9.00 pm on May 24. Assistant producer was Kate Szell; sound recordist, Andy Paddon.
Check this blog in the next few days for a comparison of Android and iOS operating systems on smartphones for journalism and programme-making.
How our mobile-only TV package made the network news
Ten apps to take your smartphone videos to the next level
Smartphone training for journalists
Mobile journalism blogs by Nick Garnett