In September 2015 I wrote a short blog following a great panel session on live-streaming at the Online News Association (ONA) annual conference. Meerkat had arrived (and faded) with a fanfare. Periscope and Facebook Live were at loggerheads and I was keen to understand the relative pros and cons of using each of them.
A year later, the 2016 ONA conference has been dominated by Facebook. Don't get me wrong, Twitter was present and of the approximately 2,100 journalists who attended this year's conference in Denver most were live-tweeting about the panels they attended. Periscope has also been making a valiant attempt to grab some headlines and a good deal of press coverage has been dedicated to recent live-streaming on Twitter.
All that aside, however, virtually every journalist I encountered at this year's ONA conference appeared focused primarily on one thing: how to deliver for Facebook Live. Whatever you make of the platform from an editorial, technical and ethical standpoint, it's likely to be around for a while longer.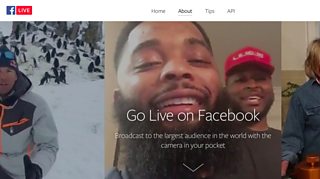 This blog is not an attempt to reprise all the advice and discussion about Facebook Live at ONA. You'd do far better to devote some time to the recordings and write-ups on the ONA 2016 website. Instead, what follows is a summary of key themes and issues that have emerged as recurring talking points, together with some of my own reflections. This is not exhaustive. I've simply concentrated on things that large numbers of journalists have discussed over many weeks and months. As ever, I welcome your feedback and comments.
1. Content
Two ONA conference sessions this year examined the 'hows and whys' of live-streaming on Facebook. Brandon Echter from Science Friday and Claire O'Neil of NPR led the panels and there's recorded audio of both part one and part two on the ONA conference site, and an excellent slide deck too.
A large slice of time from these panels was dedicated to sharing tips and examples of 'what's worked' for Facebook Live and there was consensus in the room that two talking heads in an office, newsroom or studio were rarely enough to capture attention.
In addition, the more a live-stream looks and sounds like a TV show the less engaging it is to many fans. This is an issue particularly for pages looking to link up professional cameras to the API and/or stream the live broadcast through a studio with on screen slates and graphics.
It's certainly my experience that page fans seem more interested in what's happening behind the scene or in an unscripted, more rough and ready event/chat.
The slide deck I mentioned earlier has plenty of examples of good practice.
Here's my short list of four themes and approaches that many of you have said work well for Facebook Live:
An interactive quiz. The NY Times has tried mass participation crosswords but you could also look at a quiz of the week's news.
A lesson, demonstration or weird and wonderful 'visual experience'. We all know about Buzzfeed's exploding watermelon. Science experiments are often popular but how about a play, a reading, tour of a new exhibition?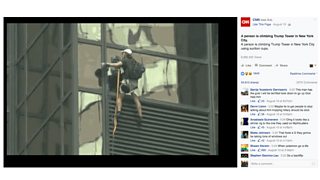 A live breaking news event where page fans can either experience a stunt or news event as it unfolds - e.g. Trump tower stunt (above) or a car crash test, or where they can hear directly from a journalist and eyewitnesses with the backdrop of a breaking news event as it unfolds. The uniqueness of the broadcast needs to be considered here. It might be feasible to 'go live' to an event but what's your selling or vantage point to page fans who might be seeing the same event unfold on a number of other pages? There are also some ethical considerations inherent in these live-streams — see section on ethics below.
Following an investigative story with the help of a live audience (see example from the New York Times below)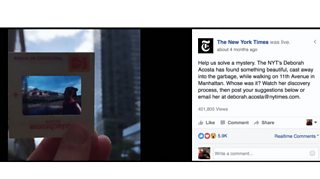 The key to success with each and every Facebook Live is keeping your audience engaged for as long as possible. We've all heard that live-streams on Facebook attract ten times as many comments as regular posts. Many of us also know that the quality of the comments (on message, thoughtful and diverse) will often enhance the broadcast. So use them, keep reaching out for more, direct your page fans to specific questions or issues you're interested in exploring. Then, when they respond, thank them and think about how you can use relevant contributions for new angles on the story. In my experience many of those who comment will also have direct experience of the subject you're discussing and may well be willing to talk to you.
It's also worth keeping an eye out for those moments where 'reactions' floating across a Facebook Live turn from happy faces, hearts and thumbs up to angry faces. It's important to respond in real time to comments and questions as they appear in the stream alongside these reactions. If page fans are bored or frustrated then give them something more interesting to look at, respond to more comments directly or end the broadcast.
Comment moderation is challenging for pages with large numbers of fans contributing simultaneously, particularly where some are actively seeking to disrupt or dominate the conversation. Page admins need to think carefully about the production process, moderation filters and designate at least one member of the team to selecting the most pertinent and relevant comments to push through to the host and guests.
2. Technology
This leads directly to the next subject: What's Facebook planning to roll out in the months ahead to help those of us who manage pages produce higher quality live broadcasts and make more of an impact with fans?
We've seen a steady increase in the number of live-streams from professional cameras linked to the API over the last six to 12 months. Image stability and sound quality are often vastly improved and live broadcasting via a studio has allowed page admins to add on screen graphics and insert video clips into their live broadcasts. This has opened up a world of new possibilities for those publishers or broadcasters with the resources to deliver live-streams this way. But, as I said earlier, we shouldn't lose touch with the reality that the topic and treatment is far more important to fans than the fact it's coming to them via an HD camera or a studio.
Facebook's Director of Product, Fidji Simo, spoke a good deal about Live when she addressed ONA conference delegates in her keynote address. You can watch it all back here. In summary:
Comment Pinning. Facebook is planning to introduce a new feature to allow page admins to pin a top comment. This could be an interesting contribution from a fan or an interjection from a producer working with the host. Personally, I would like to see a few more features alongside pinning to, for example, allow page admins to filter for top, relevant and recurring comments. Pre-moderation may be one control too many but page admins could use some ability to highlight the most pertinent and 'on topic' contributions
Live scheduling is also coming soon. This should also help with comment moderation at the start of a live-stream as well as address the issue of building an audience up over the first few minutes of a broadcast.
Auto-playing of audio. We all know that the majority of fans are watching video (including live-streams) on mobile devices with the sound muted. Adding captions or titles for videos is helpful but impractical for videos of 10 minutes+ duration. A live subtitle service seems a distant (and potentially unreliable and intrusive addition). But we now know (thanks to Simo's keynote talk) that users will soon see sound automatically enabled at the start of a live stream. Time will tell if it makes much of an impact – or whether fans get annoyed and switch the sound off!
'Live With' is available already for pages via Facebook Mentions. At present it's restricted to the Mentions App and verified users joining a live-stream on a Facebook page but the ambition is to roll this feature out to wider users soon.
New broadcasting page access rights. This idea prompted some clapping and cheers from ONA delegates. A recurring issue for publishers and broadcasters using Facebook Live has been the need to grant admin privileges to the page for anyone who's looking to 'go live.' Simo told us that a new broadcasting permission is coming soon. This will allow admins to limit page access to those wishing to go live.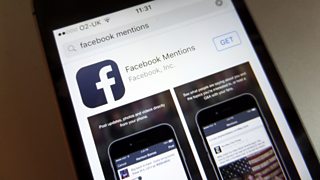 3. Data
I've lost count of the number of journalists who've said they need more performance data from Facebook. In truth, we are offered more analytics data on Facebook than on many other social media platforms. I can tell you that new post-level video analytics data (for location, gender, age and reactions) are already proving very useful for pages but we're all keen to see more. And, incidentally, we'd also like to see the same granularity of data for each and every Facebook post, not just video posts.
Wouldn't it be great to know more about comments beyond the total numbers? For example, recurring questions or themes, ages and gender and location? We can now see more about who's watching the video, how many people have watched more than the first 3 seconds and where the peaks and troughs were but it would be very handy to know more about our video 'snackers'. I might see that, for example, men between the ages of 25 and 34 are the largest category of those watching a particular video but presume they all came and left at different points. What can Facebook tell me about the most and least interesting points on the video against age and gender?
4. Ethics
I wrote a blog about the ethics of live-streaming in the midst of a breaking news event, following the spate of shootings in the U.S in July of this year. Facebook is proud of its community standards and Simo was keen to reinforce the point that the context of video and/or images is an essential judgement for any takedown. In other words, if the publisher/broadcaster can explain why their broadcast is justifiable then Facebook may not seek to remove it. The stumbling block for live-streaming here is the simple fact of it being in realtime. Explanations are all very well but what happens whilst the event is playing out and fans are commenting around it?
First, let's take the Trump tower stunt. When news media organisations decided to 'go live' how could they know the man was not about to fall to his death? Of course the broadcast could easily be made available on a delay but these considerations are not always self-evident as journalists scramble to link up to the event. If the stunt had ended in tragedy I'm sure that the stream would have been stopped but the comments and debate would have continued unabated unless or until the post was removed in its entirety.
Second, what are we saying to our page fans when we 'go live' on Facebook (or indeed any other live-streaming platform) in the midst of a dangerous event (e.g. a shooting or terrorist attack, a riot or extreme weather)? It may be very watchable but it's also unpredictable and subject to the same safety considerations we'd afford to any other live broadcast. Are simple and repeated warnings enough?
Third, what happens if and when bystanders or children inadvertently appear prominently in a live stream? In an uncontrolled environment privacy is still paramount.
Ultimately, there's a shared responsibility here. Facebook needs to be alive to the realtime issues presented by live broadcasting, to equip us with the tools to filter out the rubbish. Publishers and broadcasters, on the other hand, need to listen closely to their fans and remember to apply the same editorial standards as they would to content distributed via their own channels or platforms. Live-streaming has become a big part of the social media universe. Opportunities and challenges are plentiful and we all still have a long way to travel.
This is an edited version of a report by Mark Frankel on Medium.
Other BBC Academy blogs by Mark Frankel
#Paris: Streaming video apps mean we're all reporters now
Mobile journalism blogs by Marc Settle