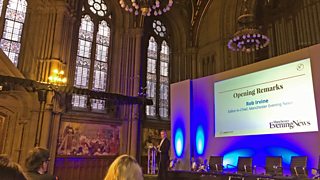 There was a time when journalists could "put out the newspaper and hope for the best". That was what the editor of the Manchester Evening News, Rob Irvine, had said, in the grand and deeply traditional surroundings of Manchester Town Hall.
His remark was picked up by Jay Rosen, a professor of journalism at New York University, at the end of a day-long conference on community-based news.
Jay was summarising the radical changes to journalism brought about by the digital revolution. Changes in "the underlying media system," he said, mean that most of what journalists assumed in the days when you just "put out the newspaper and hoped for the best" no longer applies.
As a journalist, you can no longer assume that you or your organisation is the gatekeeper for your audience's information; you can no longer assume you know what a story is (non-journalists have an equal or stronger influence); you can no longer ignore distribution (where before you could let the printers and your paper's delivery system deal with that) and you can no longer assume that your audience trusts you or will even pay any attention at all.
That's all worrying and a bit depressing. But that wasn't the overall tone of the conference, The Future of the News is Community, which was organised by the European Journalism Centre and Google News Lab among others. But the underlying tension between the power of the new digital players and the diminished power of traditional media organisations resurfaced again and again.
John Crowley, from the Newsweek Media Group, highlighted the decline of local papers, quoting some startling research by Tom Felle of City University: in the ten years to 2017, the median decline in local newspaper circulation has been 50 per cent: their business model is "well and truly bust". Apple, Google and Facebook "can and should pay more".
There was an irony in swipes at Google being made from a platform partly paid for by Google News Lab. I asked John about his attitude to the rise of the digital giants: should they be paying for the professional journalism from British media organisations that appears on their platforms?
Alternative approaches to paying for local news are being explored by The Bristol Cable, a local news organisation that's organised as a cooperative and has monthly meetings of its 'members' (rather than subscribers), who pay anything up to £50 a month to support the venture. Members are invited to contribute to the output through forums on editorial issues and can even sign up to courses on journalism run by the cooperative. 30,000 copies are printed quarterly and given away for free and there's a website for regular features.
These kinds of local community ventures aren't usually associated with a strong interest in business models but that may be changing. The Bristol Cable's Alec Saelens says that while grants are often needed to launch community news ventures, they should only be seen as a temporary stage towards financial independence, which is key to independent journalism.
A similar message came from Rachel Hamada of The Ferret, an Edinburgh local news organisation. She says that the sector is "getting pretty canny" about bringing in money. The Ferret has had a grant from Google for a particular project and has had success with other methods such as crowdfunding which they used to raise money for a particular investigation. They got more than twice as much as they were asking for, allowing them to fund an investigation into fracking and a second project with the extra money.
Rachel says that local news organisations should use crowdfunding sparingly as they'll annoy their supporters if they're asked for money too often. But there are side benefits to crowdfunding such as market research on what the audience wants and in helping to market the organisation.
Emma Meese of the Centre for Community Journalism at Cardiff University says the perception of community or hyperlocal journalism often doesn't do justice to the quality of the journalism - some of which is provided by ex-employees of local papers. This is "a massively growing and thriving sector", Emma says, with up to 500 separate publications in the UK.
"It's not that there's not money in local news," Emma says, but local papers are in trouble because in those businesses "there's not enough money to keep the shareholders happy". If you set up as a small organisation "there's plenty of money" in local advertising. Today, the large infrastructure of news isn't needed: what's important is that "you've got the skills and the quality and you ask the right questions".
Many of the issues discussed at the conference are also facing local news in the US: Damian Radcliffe, a regular contributor to this blog, has co-authored an article in the Columbia Journalism Review which chimes with much of what was said at the Manchester conference, such as the point that local news organisations should stop talking themselves down:
"Local newspapers need to do more to showcase and reiterate the great work they're doing …The industry is wounded, but not fatally so. It's time we started telling audiences that."
There's more from the BBC Academy on the state of local news from an event in Bristol celebrating 50 years of the BBC's regional news programme, Points West.