Ahead of the broadcast on Saturday 23 April of CBeebies A Midsummer Night's Dream, we spoke to the controller of the channel, Kay Benbow about how the production came into being:
Where did the idea for a CBeebies production of Shakespeare come from?
I heard everyone talk excitedly about the plans around this year's 400th anniversary of Shakespeare's death. It all sounded marvellous - I love the theatre and although I'm not an expert, I've learnt to love Shakespeare as I've got older. I always enjoyed it but I think is one of those things you have to experience, and go and see it to appreciate it and understand it. I started thinking just how CBeebies could be a part of the celebrations.
I thought to begin with about the things we have done on CBeebies - the way we did our Christmas show and a few years ago when we produced a version of A Christmas Carol, very much an adaptation and very much more theatrical. I also thought about our CBeebies drama's Topsy and Tim and Katie Morag. We have all that talent, I thought, and we're good at telling stories. We know how to put on a show, we've done adaptations. I pondered what Shakespeare was if not a brilliant storyteller. Why couldn't we just tell a story in a CBeebies way?
We had already produced CBeebies ballets where we partnered with Northern Ballet to make a version that was accessible to our viewers, where one of our CBeebies characters explained the story to the children. We thought that that was the starting point.
The in-house CBeebies production team Alison Stewart, Tony Reed and Angela Young have done the most wonderful job, working up what I think is a brilliant adaptation of A Midsummer Night's Dream. We're combining the CBeebies stars our viewers will recognises such as Stephen Kynman, Justin Fletcher, Ben Faulks, Cook and Line, Andy Day, Rebecca Keatley, Pui Fan Lee and Chris Jarvis with members of the RSC too. We also are delighted that Josette Simon and Roger Griffiths are playing Titania and Oberon. There's going to be a wonderful mixture.
Creatively do you get that extra push of motivation because perhaps people make assumptions that CBeebies can't do certain things?
I love doing things that surprise and so far the audience have just lapped it up. Like when we saw what the Northern Ballet were doing for very young audiences. The next thing you know we'd done a production of the ballet The Ugly Duckling and it won a BAFTA.
I think that a lot of people think you can't do Shakespeare for pre-schoolers. I think that's more that people aren't sure how it can be done. But, the minute you start thinking about it, it sort of becomes obvious, because Shakespeare plays, just like anything, are just about telling stories
Is there something about the receptiveness of the CBeebies audience that makes Shakespeare as a first experience all the more immediate?
I think there is, yes. They have no preconceptions. If it's a great story, it's a great story back to that: Children are totally open, then adults change their views, and it is a huge responsibility. CBeebies is about opening up opportunities and experiences to our audience. I think it's very empowering for them.
If we regularly did Shakespeare like this for a young audience, we'd have a whole generation of children growing up knowing the stories, and loving the language. Shakespeare should be performed, it shouldn't just be sweated over in the classroom. It's physical, it's brilliant language and they're great, great stories.
So it's challenging a lot of our adult perceptions about Shakespeare too?
Absolutely. And I think that's fine, and actually quite a lot of adults struggle with Shakespeare because they're intimidated by it. But, when you see it performed, although you may not understand every word, you absolutely understand what's going on. If you just read it, it can be a bit of a struggle, but if it's well performed and they do the language properly you can follow what's going on from the rhythm.
What we have to remember is Shakespeare was popular. Shakespeare was for everybody. There were lots of in-jokes and references to things everyone would understand at the time.
What did you have to change in order to make this for CBeebies?
Obviously it's a much shortened version. The performance is 45 minutes and it tells only the basic story. There are key scenes in there and we use Shakespearian language, but there are also established CBeebies characters like Steve Kynman (Robert the Robot from Justin's House) who's playing Shakespeare and Swashbuckles' Cook and Line acting as trusted guides for what's going on on stage. We've also had special songs written so that helps with explaining the story.
There is supporting content on all the other platforms as well. We've got a 'Behind the Scenes' section online, and there are members of the RSC talking about why this is important that they get to know the language and get a sense of the love they have of it. I'm hoping our viewers will be able to get enjoyment out of whatever level they choose.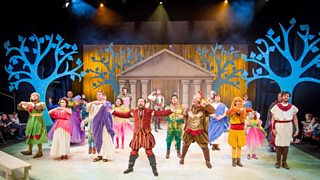 The cast performing at The Everyman Theatre in Liverpool
What were the challenges you faced making this?
My worry was that people might say we've only just scratched the surface. I didn't want people thinking we'd dumbed down, and I don't think we have. We've got the language in there and what's wonderful is the children do follow the story. They followed the magic.
What do you experience when you witness members of the audience loving the thing that you've made?
A really brilliant moment of the play was when Puck has to get the magical flower and he throws it to Oberon. There was some theatrical visual trickery and the performers did it so beautifully that the children audibly gasped. They saw it, they understood it, and they also reacted to the magic of the theatre. They were completely immersed.
Witnessing the audience's reactions I experienced enormous pride. It's emotional. I was very close to crying at the end. It's that feeling of doing something really, really special. It is unbridled joy when you watch the audience and you think 'Yes, they've got it.'
You just never know for sure it's going to work. It's not always plain sailing. There are always challenges. What was lovely was that after the performances of A Midsummer Night's Dream at the Everyman, I went to see the cast and crew afterwards. Absolutely everybody said that it was such a special thing to be part of. That's when you know you've done something right.
Where do you get your energy from?
It's funny, just before we started talking I commented on how tired I am, I haven't stopped all day. Talking to you about CBeebies however, the energy comes back, because I love what I do. Let's be honest, it isn't just me: I have fantastic people working with me. I hope that what I do is encourage them to be passionate and give their best to the audience. The audience always drives everything for me and I'm an absolute believer in you give the youngest the very best and that is what makes the impact.
I believe that what I've done as Controller of CBeebies over the last six years is help to create a multi-genre channel. We connect with the harder to reach audiences, because we allow children and families to see themselves reflected back in what we do, from observational documentaries like Our Family, to Magic Hands a programme for deaf children but which is totally inclusive - there are five Shakespeare episodes of Magic Hands that are also part of the CBeebies Shakespeare content, they're equally beautifully produced and also include the Shakespearian language.
I do look at CBeebies and think I wish it was around when my boys where little. It's the most joyful channel, and we get so much praise from parents and viewers alike.
Kay Benbow is Controller of CBeebies.
CBeebies A Midsummer Night's Dream will be broadcast on CBeebies at 11am and 4.30pm on Saturday 23 April.