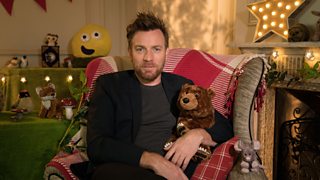 A round up of BBC announcements, press releases and blogs, plus some highlights from our TV, radio and online output from the last week.
Ewan McGregor to read a CBeebies Bedtime Story
On Monday CBeebies has confirmed that Ewan McGregor is the latest star to read a CBeebies Bedtime Story.
BBC New Comedy Award winner 2018
Stephen Buchanan has been announced as the winner of the BBC New Comedy Award 2018.
Strictly Come Dancing 2018
This week the first nine celebrity contestants were confirmed for the new series of Strictly Come Dancing: Katie Piper, Danny John-Jules, Faye Tozer, Joe Sugg, Vick Hope, Graeme Swann, Dr Ranj Singh, Stacey Dooley and Ashley Roberts.
Announcements and blogs
Corporate
On Wednesday a statement on the BBC's decision not to appeal the ruling in the Sir Cliff Richard case was published.
Comedy
In 1975, a 16 year-old Lenny Henry bunked off school to appear on TV talent show New Faces, beginning a long and glittering career in comedy, theatre and film. In 2018 Sir Lenny is 60 - the perfect excuse to celebrate a man who has made a unique impact on British entertainment in The Lenny Henry Birthday Show.
Drama
After leaving River City over a decade ago, acclaimed actress Barbara Rafferty returns to BBC Scotland's much-loved drama to play brand new character, Bernie O'Hara who will stir up trouble and turn heads in Shieldinch.
Factual
On Monday it was announced that series four of award-winning documentary series Hospital will return to BBC Two next year, filming across several Trusts in Liverpool.
Elsewhere, BBC One confirmed that brand-new cookery competition for home cooks, Britain's Best Home Cook, has been recommissioned.
Meanwhile on Friday it was announced that University Challenge's Eric Monkman and Bobby Seagull will travel up and down the country in search of Britain's most remarkable scientific and technological achievements for their first TV series.
Proms
It was confirmed that West End star and Holby City actor Lee Mead is joining this year's line-up for BBC Wales' Proms in the Park in Colwyn Bay on Saturday 8 September.
BBC Four
BBC 4.1 AI TV will bring two nights of experimental programming to BBC Four on 4-5 September, featuring new and classic programmes exploring Artificial Intelligence (AI).
Radio
Radio 2 confirmed this week that it's Saturday night dance music line-up is taking to the road once again for Radio 2's All Star Party on Saturday 29 September, live from the Art Deco ballroom of Bridlington Spa.
Elsewhere, Radio 4 will explore morality in the 21st Century with Rabbi Lord Jonathan Sacks, who presents a series of five programmes examining this topic in early September.
Meanwhile, BBC Radio 1Xtra has announced three additional artists for this year's 1Xtra Live line-up. Hosted by the 1Xtra DJ family, the station's flagship live music event will take place in London at the O2 Arena on Saturday 22 September.
Regional
BBC Northern Ireland confirmed it will host a range of discussions on Saturday 1 September as part of the annual Mount Stewart Conversations - a joint initiative with the National Trust which reflects the County Down property's long, and sometimes controversial, associations with domestic and international politics.
Blogs
Denise Black, Licensing and Synchronisation Executive, BBC Studios asked From David Bowie to Miles Davis to the Proms: what happens to live recordings?; Angela Griffiths, Head of Scheduling, BBC Children's reported on how up to a third of iPlayer views are children's programmes; Saher Baloch, Video Journalist, BBC News Urdu revealed why BBC News Urdu took to two wheels in Three women on motorbikes across Pakistan.
In addition, we explained Why we've established a day to celebrate vocational qualifications, Bethan Jinkinson, Executive Editor BBC Ideas talked about ways BBC Ideas is helping make the time people spend online more meaningful; and Charlie Taylor, Series Producer, BBC World Questions blogged about how the idea of adapting Any Questions for an international radio audience came about.
We also published the weekly BBC iPlayer Highlights 18-24 August 2018.
Broadcast Highlights
Bollywood: The World's Biggest Film Industry