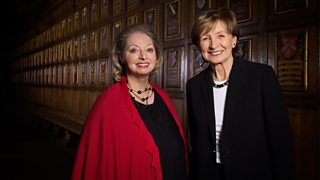 Hilary Mantel and Sue Lawley at the 2017 Reith Lectures
In June we'll be going on the road to record this year's Reith Lectures with Professor Margaret MacMillan who will explore the relationship between humanity and war over five lectures recorded in the UK, Canada and Beirut.
Our team are delighted to have been awarded Radio Programme of the Year at the Broadcasting Press Guild Awards earlier this month for Hilary Mantel's 2017 Reith Lectures. The Awards recognise outstanding UK programmes and performances seen or heard in the preceding year. We're proud that in 2018, although a simple and traditional format, the Reith Lectures continue to stand out by giving distinguished public thinkers the time and space to develop an argument.
At the awards Sue Lawley confirmed that she was standing down after 17 years as presenter and chair of the Reith Lectures, where she also talked about working with Hilary Mantel:
"Hilary was a delight to do business with and I'm particularly pleased about that because she was my 18th and last Lecturer - I have decided to hang up my Reith boots."
Sue has been a brilliant host and we want to thank her for the integral role she's played in the Lectures during that time. Although people of course come to see the Lectures, many over the years have also come to see Sue Lawley.
Last summer she told Feedback about some of her memorable highlights from over the years, including working with Daniel Barenboim:
"He's wonderful and we all fell in love with him. However, he didn't want to use any notes for his first Lecture. So he walked out on stage and began to talk about the nature of silence and the nature of sound, and he grappled on until the 18th or 19th minute and then we knew he was seizing up. So I leapt on stage and started taking questions. And of course, the consummate showman that he is, he saved the day. Mind you, he only did that for the first one. For the others he wrote down every word!"
Reflecting on Sue's time in the role, the Controller of Radio 4, Gwyneth Williams has said:
"Presenters like Sue don't come along often. She has brought her journalistic edge, wit and charm to the Reith lectures over many years. I would like to thank her personally and on behalf of Radio 4 for her skill and professionalism. Our audiences love her and so do we."
The Reith Lectures were inaugurated 70 years ago in 1948 by the BBC to mark the historic contribution made to public service broadcasting by Sir John (later Lord) Reith, the corporation's first director-general. No doubt he'd be proud that they continue to provide a unique public service reaching millions of listeners in the UK and around the world via the World Service.
In recent years we've heard from Eliza Manningham-Buller, Stephen Hawking, Kwame Anthony Appiah, Grayson Perry and Dr Atul Gwande. Last year, in Reith Revisited, Sarah Montague and guests considered how some of the earliest Reith Lectures looked from the perspective of 2017, from Bertrand Russell's inaugural 1948 Reith Lecture series to those of Robert Oppenheimer, the scientist known as the father of the atomic bomb. The series was a timely reminder of how the Reith Lectures have always reflected on some of the most pressing issues of their day.
Professor Margaret MacMillan will follow in their footsteps by offering fascinating insights with her Lectures, which promise to explore the tangled history of war and society as well as our complicated feelings towards it and towards those who fight. We're well into working on the series and I can't wait to get back on the road.