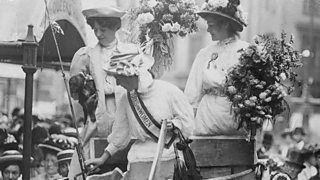 A round up of BBC announcements, press releases and blogs, plus some highlights from our TV, radio and online output last week.
#1918women
Discover the fascinating stories of the women who fought for the right to vote - the #1918women suffrage project began airing on BBC local radios and BBC regional news programmes in England from Tuesday February 6 - exactly 100 years to the day when the law changed to allow some women the right to vote.
RAJARS
This quarter's RAJARS (Radio Joint Audio Research figures for Q4 October-December 2017) revealed a boost for breakfast shows with increased listeners across BBC radio stations, while BBC Radio Ulster/Foyle remain the most listened to radio station in Northern Ireland.
BBC Music Biggest Weekend
Niall Horan, The Shires, J Hus and Orbital plus many more are set to perform at BBC Music's The Biggest Weekend which is coming to Belfast, Coventry, Perth and Swansea this summer with coverage on BBC One, BBC Two and BBC Four plus radio, online and mobile across the entire weekend.
Tectonics Glasgow 2018
The line-up has been revealed for Tectonics Glasgow, the BBC Scottish Symphony Orchestra's festival of new and experimental music, returns this May to once again push the boundaries of what music can be
Announcements and blogs
BBC Arts
This week BBC Director General Tony Hall unveiled details of the highly anticipated landmark BBC Arts series, Civilisations.
Drama
The media pack for BBC One's Shetland series four has been published. In addition, the network confirmed that production has got underway for The Little Drummer Girl, the Park Chan-wook directed six-part le Carré adaptation starring Alexander Skarsgård, Michael Shannon and Florence Pugh.
Meanwhile, Mark Gatiss and Steve Pemberton have been confirmed to join BBC Two's Good Omens the Neil Gaiman's six-part adaptation for the network.
News
On Tuesday it was announced that there will be a new modern look for BBC Weather as we transition to our new weather services provider MeteoGroup, who will be providing the BBC with the latest forecasting data.
Comedy
BBC Two confirmed on Tuesday that a fifth series of the award-winning Inside No.9 will come to the network next year. Meanwhile, it was confirmed that The Young Offenders which has just started a six-part series on BBC Three, has been commissioned for a further six episodes.
BBC Three also announced that People Just Do Nothing star Lily Brazier will bring a brand new comedy series to the network,
Wannabe will appear online next month.
BBC Music
BBC Music and BBC Four have announced three new programmes which will air in the coming months: Old Grey Whistle Test Live: For One Night Only, Africa: A Journey Into Music and The 80s Pop Road Map.
Factual
This week it was announced that the next title to be put out to competitive tender as part of the Charter and Agreement requirement to open up more of the BBC's TV programmes to competition will be Bargain Hunt.
Radio
The nominees for the BBC Radio 2 Folk Awards 2018 have been announced by Mark Radcliffe on the Radio 2 Folk Show. This year's Awards ceremony, presented by Mark Radcliffe and Julie Fowlis, will take place at the Belfast Waterfront on Wednesday 4 April.
Blogs
Liz Howell, Head of BBC Weather introduced their new look; Claire Stocks, Head of Interactive, BBC Children's explained How we're helping kids navigate online life; plus we published a round up of BBC wins at the Broadcast Awards 2018; as well as the weekly BBC iPlayer Highlights 10-16 February.
Broadcast Highlights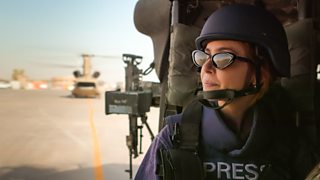 Stacey Dooley: Face to Face with Isis