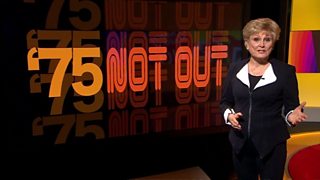 Forty one years ago, in 1975, residents of the United Kingdom were asked to vote on whether the country should join the European Economic Community, in the country's first ever nationwide referendum. To mark the occasion BBC Parliament presented a series of programmes on 5 June, 75: Not Out.
Legendary BBC newsreader and journalist Angela Rippon presented the evening's programmes from the BBC archives, returning to the story she covered as a young reporter.But don't worry if you missed the programmes on BBC Parliament on 5 June, they are all still available on iPlayer.
You can watch key moments in the 1975 campaign including the tense Panorama head-to-head between Tony Benn and Roy Jenkins and the riotous Oxford Union debate between Barbara Castle, Ted Heath, Jeremy Thorpe and Peter Shore.
Newly-crowned Conservative leader Margaret Thatcher pops up in her striking European flag jumper and to give her support to the 'In' campaign on Newsday. There's also a turn from the young David Dimbleby presenting his first national results programme, when 67 percent of British voters said 'Yes' to the UK's membership of the European Economic Community (EEC).