Does your journey to work feel anything like this?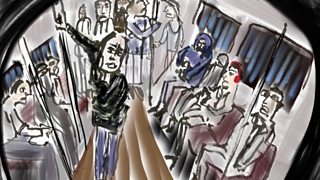 Commuting is often the worst part of our working day, yet we are spending an increasing part of our lives on these journeys. In the UK, one in seven of us commutes more than 2 hours each way. Our journeys on public transport may be the only time we are exposed to others outside the cocoons of our family, friends and colleagues. That's a lot of exposure, with nearly 7bn UK journeys made annually on public transport.
On such trips we often try to escape the present, blanking ourselves off from the world. We may be fixated on our screens, too distracted to acknowledge each other. Sharing close spaces with someone and not exchanging eye contact or smiling is probably not good for us and our fellow passengers' mental health. And it may not surprise you that research shows commuting isn't good for our wellbeing.
Professor Nick Epley at the University of Chicago was intrigued by an "anti-social paradox" among his fellow commuters in Chicago. Why did they ignore each other every morning? Was it that family and friends are beneficial but strangers are dangerous, or rather we expect them to be? Nick conducted an experiment in which participants were told to either talk to no one, carry on as usual or make conversation with whoever sat next to them. Those asked to chat felt far more positive about their journey than those who kept to themselves. The longer people had talked the better they felt, even if they expected to be happier in solitude or thought themselves introverts.
Meanwhile, University of Essex academic, Dr Gillian Sandstrom was interested to see if the skills of talking to strangers could be enhanced through practice. During a week-long project, she gave participants "missions", such as talking to someone in a queue or with an interesting haircut. Gillian hasn't fully analysed her findings but quoted a typical participant saying they were hesitant beforehand, expecting short, awkward conversations that felt forced. Afterwards, however, the person told her: "I was surprised to find how many conversations I had that I genuinely enjoyed."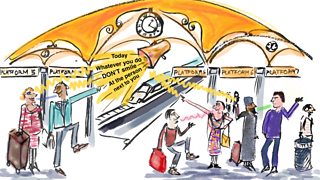 What would it take to transform our commutes?
On Friday 14 June, the BBC is working with public transport companies across the UK on a day-long experiment. We'd like to inspire adults to think about who might enjoy a conversation and talk to them, while being mindful of not being intrusive. Does anyone around you need help carrying a pram or luggage up the stairs? Crossing Divides On The Move Day is seizing a unique opportunity that only public transport can provide: making the most of a public space that could bring people together in a potentially transformative experience.
By coming into contact with other people's needs, lives and desires, we might come to understand other people's worlds and help create a greater sense of belonging. In a survey about loneliness last year, a third of respondents reported having caught a bus to have some human contact.
Could our initiative have a positive impact on our growing epidemic of loneliness?
Perhaps chat among strangers is nothing unusual on your local bus or train, and you might wonder what the fuss is about. Alternatively, you may think there's nothing worse than having a conversation with a stranger, except starting one. You fear being trapped in an unwanted conversation. Plus you cherish your "me time" on the move as the only quiet space to catch up on podcasts, Insta, a book or just chill. As a result, you guard your personal space fiercely.
If this is you, you'll be pleased to hear every intervention on this day is voluntary, targeted only at those who are curious about the difference it might make, and who like the idea of combating isolation by helping others feel acknowledged.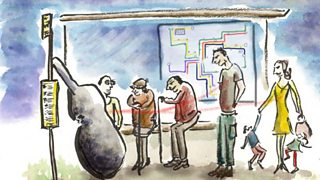 So what's happening on 14 June?
Some of the most significant UK transport companies are taking part. Virgin Trains are designating coach C on all West Coast services as "chat carriages". At stations or on trains, you might find yourself smiling in response to announcements that are a little personal or funny. Arriva are placing "conversation starter" cards on buses serving routes around their UK network from The Wirral to West Kent, from Doncaster to Dartford.
So, what happens if you pluck up courage and want to take part, but don't know how to break the ice. Dr Sandstrom has collated a host of advice.
Trigger Conversations, which does just that, suggests starting with a compliment, or a comment about something you have in common - perhaps an observation about your shared journey. They advocate acknowledging it's an unusual step: "I know we don't normally talk to strangers but…" And to end a conversation you can simply say "It's been great to talk to you."
What does success look like?
Part of the BBC's public purpose is to contribute to social cohesion. If by the end of the day we have kick-started a flurry of conversations, valued moments of connection that might have otherwise never happened, it will be exciting. But more ambitiously, we hope that in subtle but powerful ways we can help normalise a more humane public space which reduces feelings of isolation. Perhaps transport companies will find that encouraging encounters creates a more positive commute and promote it further. Maybe one day it will become business as usual.
You can read and watch stories about Crossing Divides On the Move here, where you can also see stories from our whole season. Plus more information about the whole Crossing Divides season here.