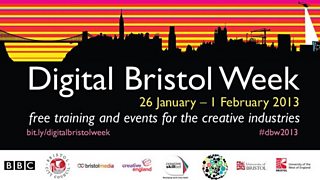 The largest free programme of training, events, workshops and panels for media professionals ever to be held in Bristol kicks off next week at BBC Bristol and venues across the city.
Running from 26 January to 1 February, Digital Bristol Week (#dbw2013) will see the BBC Academy and BBC Bristol working with high-profile partners to deliver a packed schedule of networking, training and knowledge exchange for the South West's creative industries. 
Highlights include contributions from George Ferguson, Mayor of Bristol, Tim Davie, acting Director-General, BBC, and creative leaders from throughout the region. Interactive displays include a cutting edge Technology Showcase and the BBC Blue Room, which pulls back the net curtain on what living rooms of the future will be like. Each day has a different theme and focus, covering essential skills, new technologies, next generation broadcasting, industry training needs and the future of business.
The week has created a real buzz, with many events already fully booked. But what makes it so special, and could it be a useful model for other events, not only in Bristol but also elsewhere?
One key element for success with a week like this is being able to work with an active and supportive set of partners. At Digital Bristol Week each of our partner organisations is bringing something different to the mix, to ensure that the event has a wide appeal to those in the creative industries.
It all begins on 26 January with a Creative England-sponsored Game Jam. The idea here is that games developers, designers and TV/Radio producers work together over a hectic weekend to prototype multiplatform concepts.  From Radio 4 to Features, Children's to Natural History, BBC in-house production will be well represented.  If you want to know more about the annual Global Games Jam event you couldn't do better than listen to Toby Field's excellent Radio 4 documentary.
University of the West of England is producing the iDocs Labs, which will explore the future of interactive documentary. They have also recruited more than 30 students to help across the week, some of whom will be filming conference sessions and working a mixing desk alongside senior BBC staff.
Bristol University is supporting the technology day with fascinating exhibits and a panel discussion that explores the world beyond 3D technology. They are also offering a lunchtime session on how to make new technologies commercially successful.
Creative Skillset are offering a fantastic range of free taster sessions. These include introductions to production management, second screen and protecting your intellectual property, among others.
Bristol Media have created a very special event, which we have called 'Open Doors'. If you sign up on their website you will be able to visit a whole range of media companies and digital agencies right across the city and take a peek behind the scenes.
The Pervasive Media Studio - Bristol's digital hothouse - is hosting a mini games conference and is also home to the extraordinary 'Memory Dealer' interactive theatre experience, which is being play-tested for the first time as part of this event.
Bristol City Council is backing the final day with a conference devoted to building business in the city. BBC Bristol's senior management team will discuss the future of the BBC in the city and Peter Salmon, director of BBC North but once Bristol-based, will reflect on what the city can learn from the BBC's presence in Salford.
As you can see, it's an ambitious schedule. Previous events of this kind have generally lasted only a day or two, but there are advantages to scaling up. A week of activities cuts through the noise and allows sufficient space for a variety of agendas to develop. Partners can host events with different, but related, themes. Networking events and innovative experiences can be included. Other venues can also be used to deliver training across the week, giving partners the opportunity to maximise their contribution.
Many organisations other than the BBC have a mandate to support the growth of the UK's creative sector. But the BBC has a vital role to play, providing the catalyst for exciting collaborations of this kind. Digital Bristol Week has the potential to genuinely strengthen our industry in the South West, and my hope is that it that it will also provide a model for others in the future.
Mark Jacobs is programme manager, BBC Academy.