Celebrating the best in diversity and creativity at the CDN Awards 2011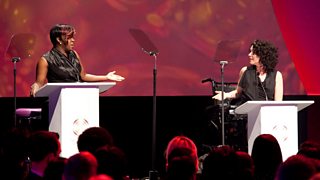 Tameka Epsom, from EastEnders and Cherylee Houston from Coronation Street
Last night was a fantastic evening celebrating the best in creativity and diversity at the third annual Creative Diversity Network (CDN) Awards, which took place at MediaCityUK studios in Salford.
As current Chair of the CDN, I was very proud to bring the celebration to Salford, so partners, stakeholders, programme makers and talent could see the impressive site that stands for exactly what the CDN Awards are all about: embracing, celebrating and reflecting diversity - geographic as well as demographic.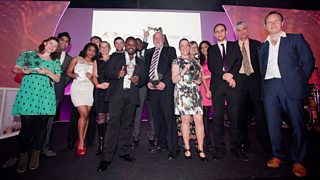 Winners of the 2011 CDN Awards
I want to congratulate again all involved in last night's ceremony which showcased some of the very best in diverse and creative programmes and people. Last night many people came together to pay tribute to the enormous range of artistic and creative talent, innovation, commitment and sheer hard work that has taken place over the last year.
The challenges the BBC is meeting - representation, portrayal, a more diverse workforce - are the same for all members of the CDN, and these winners show how successful we can be as an industry when we embrace diversity. As Chair of the CDN, it was a pleasure to see the fruits of so much hard work.
And the winners are...
Radio Times Drama Award:
Luther (BBC One)
Company of the Year Award:
Endemol
Best Comedy & Entertainment Programme:
Phone Shop (Talkback Thames for Channel 4)
Diversity Innovation Award:
Battlefront (Raw Television for Channel 4)
Best Nations and Regions Portrayal:
Fish Town (Mentorn Media for Sky Atlantic HD)
CDN News Award:
The BBC Journalism Trainee Scheme
Best Breakthrough Talent:
Levi David Addai
Community Initiative
Company Pictures, Skins
Best Factual Programme:
Undercover Care: The Abuse Exposed (Panorama, BBC)
The CDN Fellowship:
Presented to Clive Jones, with a speech by Samir Shah and presentation by Chair of the CDN, Mark Thompson
Mark Thompson is the Director General of the BBC, and current Chair of the CDN