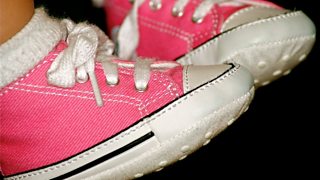 It's International Women's Day on Friday and my Editor asked me to write something – anything I liked – to mark it. If he'd asked me two years ago I might have struggled. In my twenties I was dismissive of the 'female condition'. I lived in the UK – the battle for women's rights had been fought and won – hadn't it? I didn't really think about it – but that's because two years ago I wasn't mother to a little girl. Since my daughter was born on New Year's Eve 2011 what it is to be growing up as a girl in this world has preoccupied me.
I actually thought I was having a boy (we didn't 'find out' at the 12-week scan preferring to keep it a surprise) and so we had boys names lined up and the only room ready in our newly bought home was babe's – complete with blue curtains and carpet.
Then she arrived. This life changing child. And people came to visit with cake. The inevitable question was raised time and again: "When will you redecorate – you can't put a girl in a blue room". And that was just the start. My incredibly generous sister-in-law passed on clothes from both her children (a boy and a girl) and my baby wore them all; "Aren't you annoyed when people think she's a boy?" No, I wasn't. But I was surprised at how deep these traditional, conservative views still run.
I had to interrogate my instinctive feelings – why is it a problem for her to be dressed in pink and directed to nurses outfits and dolls? Because when she grows up I want her to feel empowered to do anything she wants - it might sound trite but I do firmly believe that this is a key time in her development. And although being discouraged from playing with a train now is unlikely to mean she'll avoid engineering at university, I can't help but think it will have the effect of making her think some things are out of bounds. And I don't want that.
Since she turned two and learned to say  "CBeebies", she's had control of the remote in our house. I was nervous about giving her access to TV too young (I know stronger mothers than me who have invoked a 'no TV until three' rule) not least because I hadn't watched kids TV in recent years and was worried about how girls are portrayed, so I insisted on sitting and watching as much as I could with her. I'm now a firm CBeebies aficionado - seriously the other night when she'd gone to bed I momentarily considered watching Charlie and Lola with my glass of wine (I opted for Inside No. 9 instead). There's such a breadth of programming on the network and a breathtaking array of perspectives:  there's visually impaired Melody, the wonderful Something Special that always features children with disabilities, Let's Play where presenters Sid and Rebecca take turns in trying different jobs – often with Rebecca in traditionally male jobs and vice versa, to name but three. What's more the presenters are incredibly diverse too.
The network's controller, Kay Benbow very kindly agreed to talk to me about programming on CBeebies, and how she and her team  select programmes and presenters.
About the BBC's Hannah Khalil interviews Kay Benbow, Controller CBeebies
It's so reassuring to know that my concerns are central to the thinking of the person who decides what appears on my daughter's channel of choice. 
I also found BBC World Services 100 Women Season last year extremely inspiring – witness their video featuring recorded messages from participants of the conference to their granddaughter. In the spirit of that, I've been thinking of what message I might pass on to my daughter's daughter – should she have one. I think it's a wish that she doesn't have to think about gender roles and restrictions, and working against them, not because she's naïve to them as I was, but because, I hope, by then they will be a thing of the past.
Hannah Khalil is Digital Producer, About the BBC Website and Blog.