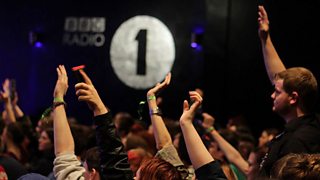 Radio 1's Big Weekend is the highlight of Radio 1's calendar. Every year we get to visit a different part of the UK, meet our audience face-to-face, and party with them alongside some of the biggest artists in the world.
But it's not just about the music and the event itself. In the lead up to Big Weekend we also meet thousands of 16 to 19-year-olds at our Radio 1 Academy events. These are a series of bespoke workshops, sessions, gigs and Q&As specifically designed for young people in the local area. We talk to a range of people months in advance, from focus groups, to community groups and local councils, to find out what they would like, and what we can bring to the table. We then spend weeks with our colleagues in BBC Learning shaping a programme of activities, which will give people
We then spend weeks with our colleagues in BBC Learning shaping a programme of activities, which will give people hands-on experience, as well as behind-the-scenes insights into everything from how presenters run their social media accounts to putting on a radio show. There are also opportunities to meet Radio 1 and 1Xtra DJs, whether it's in a mixing workshop, a demo listening session, or just to ask those questions you've always wanted to ask.
This year in Devon, we're working with 2 local councils, Exeter City Council and Teignbridge District Council, and we've created a month long season of events across both areas, with around 7,000 opportunities for young people to get involved.
We kicked off with Radio 1 DJ Dev hosting 'A Day In The Life Of Radio 1' at Hannah's at Seale Hayne. He was also joined by his production team and our Head of Programmes, Rhys Hughes, who gave loads of valuable advice on working in the industry.
We also book in some big name guests - we love to surprise people. Friend of Radio 1, Craig David, made an appearance at Coombeshead Academy to talk about his career and perform an acoustic set of some of his most memorable songs. We also had our very own Annie Mac and Charlie Sloth deliver a 10-minute talk on their journey to becoming a successful presenter including personal branding and authenticity - both are up on Radio 1's YouTube channel.
The month culminates in five days (17-21 May) of activity at Exeter Phoenix, where we'll be broadcasting live each day, and our Live Lounge artists will be recorded there too including Aluna George, Laura Mvula and Jake Bugg. There's far too much to mention here, but to give you a taste of the range of sessions, we've got Tinie Tempah in conversation with Clara Amfo, a 'How To Get a Job In Music' speed meet (a bit like speed dating, but with professionals in the music industry), a pitching workshop with some of the 'Dragons' from Dragons' Den, and a TV and film Q&A including a Game of Thrones camera operator on the panel. There's also a rare chance to see first-hand how the Radio 1 playlist meeting operates featuring our Head of Music and the entire playlist team.
The theme of the 2016 Radio 1 Academy is 'creativity' – all the sessions and workshops will be about the different ways people can use their creative talents, from song writing to making props for festivals, to thinking up new games for Scott Mills to play on the radio. We are looking forward to inspiring thousands of young people to take the first step towards a creative career.
You can find our jam-packed list of sessions on the Radio 1 Academy website now.
We are really proud of the enthusiasm, passion and determination of the young people in the region to better themselves, help their friends, and their community – I hope you are too.
Louise Kattenhorn is Editor, Radio 1 & Radio 1 Xtra.
Find out more about BBC Radio 1's Academy.
Read the press release unveiling the BBC Introducing stage line up at the Big Weekend on the Media Centre website.