We thought we'd try something a little different for our weekly round-up on About the BBC this week. Sometimes just listing links can be a little dull. So to mark our 10th post, we've struck out of our usual boundaries and taken a look further afield. Kind of.
This is partly down to a chance discovery on Facebook earlier this week. Peter Sumpter who works in BBC News has captured an image which I suspect many of us who spend time busying ourselves in New Broadcasting House now take for granted (be sure to take a look at his selection of pictures for some other stunning shots from around the building).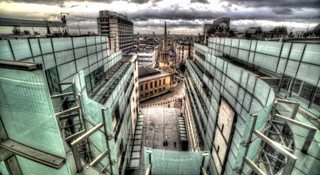 The view from New Broadcasting House. Picture taken by Peter Sumpter.
The dramatic HDR (High Dynamic Range) shot is – like the day to day view I nearly always overlook when I'm walking from one side of the building to another in a hurry to get to meetings - a real shot in the arm. Looking at it now, it reminds me of one of the subtle differences between here and Television Centre. For me, TVC was about the building itself. Yet here it's the view from Broadcasting House which resonates. The 8th floor affords a view the BBC's physical perimeter and helps re-calibrate my thinking from time to time. A much-needed distraction from the laptops and plasma screens inside; a real connection with the outside world.
For all the breathtaking drama Peter has managed to convey in this shot it is however a close second to one of a selection of personal discoveries I've made this week: the stairwell at the back of the building from where I've not only managed to get a view across north London, towards Harrow on the Hill and Alexandra Palace, but also succeeded in finding the quietest space (bar a radio studio) in the entire building. In a building where collaboration is central to new ways of working, there's always pleasure to be derived from indulgent moments of solitude. It's here I've been able to draw up this week's round-up accompanied by the distant yet reassuring sound of a generator.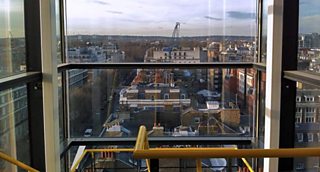 My special spot in Broadcasting House. I'm not telling you exactly where it is either.
Different views, different outlooks. A real tonic. So too, my accidental listening habits this week. Normally an avid Radio 3 listener (and a voracious consumer of BBC Proms output), this week my classical music roots have been spurned in favour of 6 Music, Radio 1 (this largely because I've seen Nick Grimshaw pass my desk twice in one week – there's nothing like a near-brushing with celebrity to make you think of a brand out of your usual comfort zone) and 1Xtra.
These unexpected discoveries started with the 6 Music Festival last weekend during which I spent a lot of my Saturday watching presenter Liz Kershaw interviewing her guests via the live event portal Radio Interactive used to great effect during Glastonbury last year. It wasn't long before I was reminiscing about the time when Liz was on Radio 1, back when I was young, beardless and wore bug-eyed glasses. Without warning I realised I was listening to tracks from the 90s which had formerly cast me into the depths of despair. Listening to them now they were tinged with the rose-tinted glow of nostalgia. Via the likes of the Mock Turtles 6 Music was making me go all dewy-eyed about memories I've long suppressed. Odd and rather wonderful all at the same time.
Fuelled by this, it wasn't long before I turned to my relatively untouched playlist on BBC Playlister. Later in the weekend I abandoned my usual DAB fare and assigned a preset to 6 Music. I returned to the Festival portal on Sunday to see Damon Albarn's set (including the eery Everyday Robots) and later marvelled at the rare treat of hearing the Radiophonic Workshop at the Festival Fringe on Stuart Maconie's programme in the evening. The inevitable music selection was played by two of the original Radiophonic Workshop - a rich updated version of the Doctor Who TV theme tune with irresistible echoes of the 7-inch version I bought in the 1980s – after which I was proud to call myself a new 6 Music listener.
Then on Monday morning, an unexpected meeting on the 8th floor of New Broadcasting House (hence the repeated sightings of Nick Grimshaw) and I found myself listening to 1Xtra (it plays out in the kitchen area), adding Estelle's No Substitute Love because of its effortless use of George Michael's Faith. I suddenly feel a whole lot younger. A real result. Thanks BBC Radio.* (And whilst I'm on the subject of BBC Radio - congratulations to Radio 1's Pete Tong on his MBE.) 
Some things stay resolutely the same. Eurovision - I've watched the contest and bored my friends and family to tears for 34 years - is back on my agenda, in part because of the blog post we published by Executive Producer Guy Freeman (the man behind the Doctor Who/Peter Capaldi reveal show on BBC One last year) who explained the vision behind this year's Eurovision act. This ahead of the unveiling of the song Children of the Universe performed by Molly on Red Button and iPlayer the following Monday. (BBC Introducing has 'powered' UK Eurovision this year, but another post about the unsigned music talent endeavour from presenter Sam Bonham highlighted a music partnership between BBC Local Radio and various institutions in the Gloucestershire and Avon and Somerset hosted at the University of Gloucester a couple of weeks ago.)
This week, we've also dedicated a couple of posts this week to International Women's Day. About the BBC Producer Hannah touches on a concern of hers as a mum in a thought-provoking post about gender portrayal in children's television. The post also features an interview with CBeebies Controller Kay Benbow. Later in the week we also published a great post from BBC Research and Development technologist Rosie Campbell. In Women technologists do exist, Rosie explains her career to date and what it's like to be a woman in technology. (From 7pm on Friday evening, Radio 1 marked International Women's Day with two 12-hour all-female evening line-ups.)
Also this week, the BBC Academy announced the launch of the Stephen Lawrence BBC Training Programme, one of three apprenticeship programmes introduced at the beginning of National Apprenticeship Week.
And on Thursday, Tony Hall also revealed proposals to close the BBC Three TV channel, moving the network online-only. Danny Cohen spoke to Richard Bacon on Five Live about the plans (subject to approval by the BBC Trust) and also to listeners invited to Radio 1's Live Lounge for a live-streamed debate on the future of BBC Three. Russell Kane questioned what will happen to new risk-taking comedy in the Guardian on Friday; Director-General Tony Hall wrote in the Daily Mirror on the same day outlining that the changes will help make more dramas like Sherlock (we've re-published the opinion piece on the About the BBC Blog).
And what of next week? I will of course endeavour to add to my growing playlist. But if you're preference is for more of the mechanics of what's going on at the BBC, there are posts from BBC Tours manager Ollie Burton, more about BBC iPlayer, and a post from History Manager John Escolme who's thorough research into one-off TV dramas of old drips with so much nostalgia that it makes me impatient for the BBC Store to come online.
* All this pales into insignificance in comparison to being in presenter Matthew Sweet's proximity later the same day. 
Jon Jacob is Editor, About the BBC Blog and Inside the BBC website