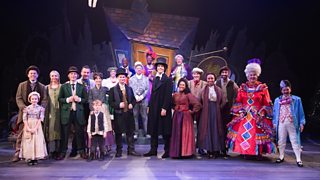 The cast of CBeebies Christmas Carol
We recorded A CBeebies Christmas Carol live in front of an audience at The Crucible in Sheffield.  They were all lovely and loud!  I think it really helps your performance when you have a live audience; it's the best feeling as you become even more immersed in the story. 
It's a musical and the songs are superb, but it has all the fun of a traditional pantomime. There are some very catchy tunes, which will be sure to have you singing along!
I play miserly Ebenezer Scrooge, a man who doesn't care for those around him or share in the joy of Christmas.  But a little bit of CBeebies magic just might help him to change his ways…  You'll have to tune in to see!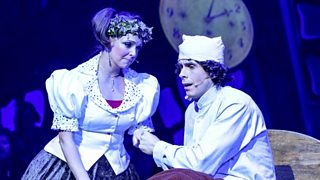 There's been a fabulous team working on the production, from the writer to the producer and director, who have kept to the magnificent story, whilst making it appropriate for a young audience.  I'm a huge fan of the story of A Christmas Carol, I grew up on the 1984 film version. My family and I would watch it every year, so I had a real vision of it in my head. I am also a huge fan of The Muppet Christmas Carol (which has Michael Caine as Scrooge) so I approached our CBeebies adaptation with both those Scrooge performances in mind. I wanted to show a mean but vulnerable Scrooge. I always pitied him as a child as he was so lonely and full of hate at the world.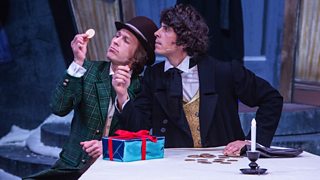 The costumes in the show are fantastic. There's a Victorian take on the CBeebies character costumes worn by my co-stars Mr Bloom (pictured above), Mister Maker and even Robert the Robot (pictured below)!  I wear a classic Victorian suit with a top hat and braces, and iconic nightwear like in films. It's exactly how you would expect Scrooge to look.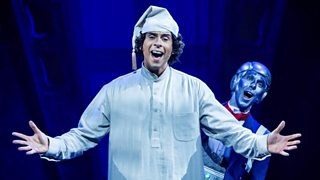 We're also joined on stage this year by some very special guests, former BBC Children's presenters Derek Griffiths, Iain Lauchlan (with Fingermouse), Dave Benson-Phillips and Baroness Floella Benjamin. I worked quite closely with Derek Griffiths who is such a lovely guy and so very talented. I don't remember him as a child (obviously I'm much too young, cough, cough...) but I do remember Floella and Iain, who I've worked with before.  Dave Benson-Phillips is very funny and I've never met someone with so much energy!  It was brilliant to be on stage with them all, they're iconic!
I had goose bumps on the day we filmed with them, and there was an air of nostalgia from the adults in the audience, as they remembered their childhoods.  I hope you'll enjoy watching it too, you can see a little preview of what's to come in the clip below.