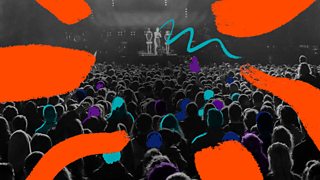 If you're like me, you might be feeling spoilt for choice at the moment with fantastic range of new and established podcasts out there to listen to.
We've just announced a second run of That Peter Crouch podcast - with a lots more coming soon.
You might have also seen that our podcasts are no longer available on certain Google products - including the Google Podcast app and Google assistant. I want to explain a little bit about why that has happened.
Last year, Google launched its own podcast app for Android users - they've also said they will launch a browser version for computers soon. Google has since begun to direct people who search for a BBC podcast into its own podcast service, rather than BBC Sounds or other third party services, which reduces people's choice - an approach that the BBC is not comfortable with and has consistently expressed strong concerns about. We asked them to exclude the BBC from this specific feature but they have refused.
As a public service, we want our content and services to be available to as many people as possible and we make these available for free on a range of third-party apps. But as the BBC, funded by the licence fee payers in the UK, we have to ensure it is done in a way that is good for all audiences, according to our Distribution Policy - which has been agreed with Ofcom.
What we think is important is pretty simple. We want people to have easy access to the wide range of BBC programmes, not just a select few, and be able to discover and listen to new ones really easily.
In the UK we have a creative and flourishing radio and podcast industry and the BBC plays a significant part in this, which we're really proud of. So we want to make sure podcasts made in, and championing the UK, are prominent on global platforms. We also want to make our programmes and services as good as they can possibly be - this means us getting hold of meaningful audience data. This helps us do a number of things; make more types of programmes we know people like, make our services even more personalised and relevant to people using them, and equally importantly, identify gaps in our commissioning to ensure we're making something for all audiences.
Unfortunately, given the way the Google podcast service operates, we can't do any of the above.
We don't like removing our content from services and certainly don't do it lightly - but unfortunately until Google changes the way they look at this, for the good of listeners, our podcasts will not be available on some of their services. We are in discussions with Google to try and resolve the situation and will continue to work with them to try and come to a solution that's in the best interests of all listeners.
Update from Kieran
It's been a few days since I posted on here, and have been reading your comments since then. I thought it would be helpful to respond to some of these.
First, a couple of you have asked about our approach to Google compared with other third-party podcast apps and services out there.
As I mentioned, Google recently decided to change their approach so that their search engine only links you to their own app for instant playback of podcasts, rather than providing a choice. This is very different to other providers - who make it clear where podcasts are to be played, with many of them giving you options about where to play them. What Google has done doesn't seem fair.
We asked Google to address the issue and not make the change until we could both work out a satisfactory alternative - but they wouldn't. The only option they've given us is to no longer make our podcasts available on a range of Google services.
We're continuing to have conversations with Google - where we are putting a number of practical solutions to them. We hope this will lead to a resolution very soon and will provide you with any updates when we have them.
Second, a couple of you have suggested that you can no longer listen to podcasts this way because we want everyone to use BBC Sounds. It goes without saying that we're developing BBC Sounds to give you, our listeners, the best possible experience. But we will continue to make our podcasts available widely via RSS feeds - so you can listen on a range of third-party services (including Apple, Stitcher and Acast). So nothing has changed there.
It's also worth noting that for people with accessibility needs, we have built features into the development of BBC Sounds - including screen reader support for those that are blind or visually impaired. For more on accessibility and what screen readers we support visit our BBC Sounds accessibility information page.
Finally, some of you have questioned why we need data in the first place. If you're anything like me, you expect your services to be personalised (as Netflix, Spotify, Apple already do) - and we would like our services to be just as compelling and useful as those of the global giants. As they do, we use the data to offer personalised programme recommendations – and make it easier for you to find the shows you like.
Data also helps us to make more types of programmes we know you like, and equally importantly, identify gaps in our commissioning to ensure we're making something for everyone. So we hope you agree that data is really important - because it allows us to provide a better service for everyone.
I hope this is helpful - and as promised, we will keep you updated with any updates as we speak to Google.