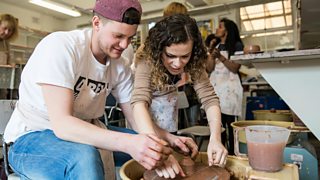 A round up of BBC announcements, press releases and blogs, plus some highlights from our TV, radio and online output last week.
Get Creative Festival 2018
The UK-wide celebration of have-a-go creativity is set to return in 2018. Delivered in partnership with cultural organisations including Arts Council England, Arts Council of Northern Ireland, Arts Council of Wales, the Crafts Council, Creative Scotland and Voluntary Arts the Get Creative Festival will run from 17-25 March.
Licence Fee
The Government confirmed this week that the cost of the annual licence fee will increase to £150.50 from 1 April 2018.
Best place for women to work
As part of the BBC's drive to have women in half of senior management and on-air roles by 2020, Director-General Tony Hall has appointed Director of BBC Scotland, Donalda MacKinnon, to lead work that aims to sweep away any barriers to women progressing, fulfilling their ambitions and reaching the top.
Sir David Attenborough
Naturalist and broadcaster Sir David Attenborough will present a brand new landmark series from the multi-award winning BBC Studios' Natural History Unit. Co-produced with BBC America and France Télévisions, Dynasty (w/t) will air later this year on BBC One.
Announcements and blogs
BBC Arts
BBC Radio 3, BBC Arts and the Arts and Humanities Research Council (AHRC) have today announced 2018's cohort of New Generation Thinkers. The selected academics will be publicly unveiled at a free event recorded as part of BBC Radio 3's Free Thinking Festival at Sage Gateshead on Saturday 10 March and broadcast on BBC Radio 3 on Tuesday 3 April at 10pm.
Drama
Filming has begun in Scotland and Australia for The Cry starring Jenna Coleman, Ewen Leslie and Stella Gonet. News this week also thet Trust Me is to return to BBC One. Created by screen writer and NHS doctor Dan Sefton, the second series will once again be set and filmed in Scotland with the drama revolving around a hospital department in Edinburgh.
News
BBC VR Hub and BBC News have launched a two-part virtual reality news documentary series exploring the water politics of the river Nile. Damming The Nile VR is available now through a new BBC VR app on the Oculus Gear VR store.
Comedy
Following news last week that filming had begun on This Time With Alan Partridge, Steve Coogan has confirmed that Felicity Montagu will be reprising her role as Alan's assistant Lynn across the new series.
The first winner of the BBC's Caroline Aherne Bursary was announced; Sophie Willan's entry impressed the panel with her funny ideas, strong work ethic and real desire to tell stories about Northern England. Plus, Mrs. Brown's Boys creator and star Brendan O'Carroll is to host a brand new panel show - For Facts Sake will air later this year on BBC One.
Entertainment
After three successful series !mpossible is moving to primetime, !mpossible Celebrities will see 18 celebrity contestants competing to give themselves a chance of winning £10,000 for a charity of their choice.
World Service
On Monday the BBC launched two new services for Nigeria. The Igbo and Yoruba services will include exciting short format audio, video, graphics and illustrations.
Children's
On Monday we published the media pack for new CBeebies animated series Bitz & Bob.
Blogs
This week we published James Purnell's blog on what the BBC is doing with voice devices. We also had news of the third See Hear Weekend from series producer William Mager; as well as the weekly BBC iPlayer Highlights 24 February - 2 March.
Broadcast Highlights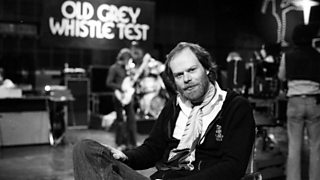 Old Grey Whistle Test: For One Night Only