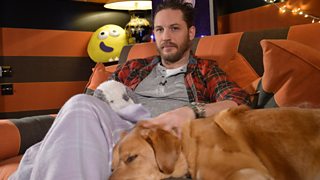 No, not a rival to ITV's show.
But an update on what we're doing with voice devices.
Last year, I blogged about our approach and in December we launched the BBC's first full voice app, our Amazon skill.
On Christmas Day, listeners across the UK could find our live radio stations and our podcasts easily when they unwrapped and started trying out their new presents.
Here's some first numbers on how it's going.
We've seen 1 million unique browsers use our voice app
Radios 1, 2 and 4 have so far proved to be the most popular stations when it comes to requests
People seem to love listening to the radio on voice devices - they've been slower to ask for on-demand content
I'm guessing that will change as people get used to interacting with their devices.
This seems to be on course to be something lots of us do. Almost two thirds of UK adults claim to own a device with voice (including mobiles) with one in ten claiming to have access to a smart speaker - this has more than doubled in the past year. This is faster than the uptake of tablets, at the same stage.
So what next? We want to discover new types of content, content that's been made for Voice, stuff that's never been possible before. The platform is interactive. It's not constrained by the structures and formats of linear schedules. As with all our digital experimentation, we'll try different things, some will work, some will need improving.
One of the first areas we're experimenting with is programmes for children.
Last year we announced an investment in children's content to make sure we can reinvent how we serve these audiences, building on what we've already done with iPlayer Kids
So with voice we're going to start making BBC audio content available to kids.
Later this spring, we'll be creating interactive experiences around some of our most familiar strands for young children.
We'll start small but add new experiences and narratives as time goes on, as we learn about the kinds of interactions that children really like and benefit from. We also aim to offer some of our best children's stories for bedtime in audio form, but activated by voice - building ways for children to choose a story for themselves.
Children's content is of course an area where trust matters, and we will make sure that the experience is safe for kids - it will be available through a dedicated skill for children.
We're also thinking about other genres - such as news, current affairs, food and music.
We'll blog about those soon too.