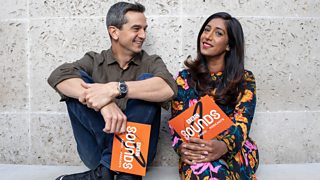 Beyond Today presenters Matthew Price and Tina Daheley
It's a month today since we launched BBC Sounds at Tate Modern. The evening included the sight of three Jeremy Vines on stage simultaneously - the real one and his two impersonators from Dead Ringers.
That night we also had performances from Nile Rodgers & Chic, Craig David, Mabel and Tom Grennan alongside Dotty, Greg James, Claudia Winkleman and Annie Mac.
We put them at the heart of our launch because the whole point of Sounds is to help audiences find more content they love.
A month in, we're already seeing that potential become real. Audiences are finding a wider range of content. Our most popular programmes on demand for under 35s in the app include: Michelle Obama's Becoming (which has already seen over half a million plays and counting), That Peter Crouch Podcast, End Of Days, Beyond Today, Live Lounge and Radio 1 Dance Anthems.
Range is a vital part of public service broadcasting. So is giving audiences what they need, not just what they want. So, when the story about Brexit spikes, we've been able to put the brilliant Brexitcast in the most prominent spot on the app.
1.2m people are using Sounds to listen to an average of over 2.5 hours of radio, podcasts and music mixes per week. That's over 5m plays and 2m hours of content.
We run a monthly survey with a demographically representative sample of respondents through an independent research agency.
From the first wave of that survey (sample of 1,300) we can see that over 4 in 5 respondents who had used BBC Sounds in the past month rated it as Excellent or Very Good and over three quarters said they would recommend it.
As I've said on this blog before, we are following a digital approach to this launch. We launched fast, with a good enough product, so that we can hear what our audiences think and respond.
Based on that feedback, we've made our auto-play function more logical so if you've just finished an edition of Beyond Today it will offer you the next one chronologically.
We're also going to add a sleep timer, make it easier to subscribe to content, introduce a button so users can share their favourite content on social media, make it easier to find out more about a piece of content before committing to listen to it and display recent tracks played on our live stations in the app.
Keep your feedback coming, and we'll provide updates as we make changes.
And watch this space for very special BBC Sounds content for Christmas...