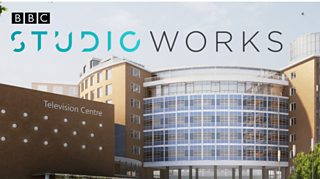 Nearly 20 years ago, BBC Studios and Post Production (or BBC Resources as it was known then) became a commercial subsidiary of the BBC, providing world-class studios and post production facilities to broadcasters and independent production companies. Now it's time for a new era in the company's history. In this post I want to introduce our new name and a little bit about our future.
Today marks the start of operating under our new name: BBC Studioworks, whilst still remaining a separate commercial subsidiary of the BBC.
As well as the name, our rebrand project has also resulted in a refreshed visual identity, a new website, and a different marketing and business development approach – even more focused on the changing needs of our television production clients.
Over recent months, we've examined where the television production market is heading, and what's expected from a studios and post production provider like us. We've gathered some really useful insights which have helped shape our business priorities and how our customers will identify us.
Our research revealed that the BBC and the other broadcasters and independent production companies we work with do so because of our 'make it happen' approach. Whether it's offering round-the-clock post production services, or accommodating a rotating climbing wall in our studios, we regularly make impossible things possible. So we have made that idea central to what we're known for. Our belief is that 'everything is possible'.
Some time ago we moved away from acting simply as a facilities and crewing provider. Now we act more in a partnership arrangement with customers to bring their ambitions and vision to life.
Whilst momentum behind our operations at Elstree has been building year-on-year, our Studios 1, 2 and 3 at Television Centre will be open for business from Spring 2017. The "TVC" studios will complement what we have on offer at Elstree, and provide a greater choice of studio and post production space in London to our clients. Feedback on our plans so far has been really encouraging: the production community love how we are blending the heritage of TVC with the newest technologies and improved facilities.
In a week that we host yet another set of engaging elections broadcasts from Elstree, it's fantastic to be announcing this rebranding exercise at a point where it is only around a year until we re-open the studios at Television Centre – all under the new banner of BBC Studioworks and working under a refreshed ethos of making the impossible happen for our customers
David Conway is Managing Director of BBC Studioworks Ltd