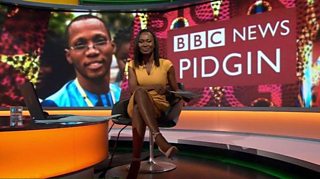 As BBC News Pidgin marks its first anniversary, we are in no doubt about how exciting the past year has been and what the future holds.
The remit for setting up the service was simple - BBC World Service set out to expand its reach among young and female audiences in West and Central Africa - and BBC News Pidgin was the first of 12 new language services launched as part of the World Service expansion.
It was important that by setting up the service the BBC was not focusing on covering negative reports about Africa, but connecting the continent's needs and aspirations.
BBC Pidgin?
In the beginning, there were people who just couldn't believe that the BBC now reports in Pidgin. "Did you say you work for the BBC Pidgin?" was one of the most common questions our colleagues had to answer from obviously curious members of public. There were also those who responded to our reporters by saying: "BBC Pidgin? I no fit speak Pidgin oooo."
We had many challenges, the key one being that Pidgin is a largely spoken language and hardly has a commonly agreed spelling or written format. So in the beginning we were constantly challenged by audiences in Ghana who thought certain words should be spelt the Ghanaian way, while Cameroon audiences would disagree just as Sierra Leonean, Liberian and Nigerian audiences would prefer a different approach.
We have had to take the lead by gradually aiming to standardise Pidgin as spoken and written across West and Central Africa, whilst creating some form of generally acceptable usage.
Redefining the media landscape
Two days before the launch on 21 August 2017, Nigeria's President Muhammadu Buhari returned from a three-month medical vacation in the UK. By the following Monday, he was expected back at his duty post.
But President Buhari was a no show. His media aide said the President had to stay away from office because "rodents" had taken over his work space.
It was our first day, and we reported the story in the inimitable Pidgin style: How rat chase President Buhari from office. The report went viral and BBC News Pidgin was quoted by major newspapers and online publications in Nigeria and around the world within 24 hours!
BBC News Pidgin has not only been referenced by local media in Nigeria, Ghana, Cameroon, Sierra Leone and elsewhere in Africa, it has also been quoted by UK papers The Guardian, The Sun, The Independent, and The New York Times and other international media.
The service was also at the forefront of reporting how Nigerians stranded in Libya. We were one of the first media to get an exclusive interview with Libya returnees, one of whom told the story of how she was sold and resold three times over as a sex slave.
Going viral
That story went viral, but we also led in bringing out glimmers of hope, breaking the story of two young Nigerians who met while at the slavery camp in Libya, fell in love and by the time they were rescued by the International Organisation for Migration, IOM, they returned to Nigeria with an eight-month-old baby. Theirs was a story of love in odd places.
In Ghana, we drew attention to a practice ensuring menstruating young girls often miss school because they are forbidden from crossing a particular river while on their monthly cycle. An age-long practice, many Ghanaians didn't know it was still active until we broke the story.
Solution-focused journalism
We were the first to bring global attention to the story of two young Ghanaians who had to drop out of school due to poverty.
While staying at home and helping with the farm, they came up with a solution to the electricity challenge facing their country: Meet boys who dey convert cassava to electricity. Since we reported this, they have been approached by government agencies wanting to help develop their dream.
A report last May caused an earthquake in the Nigerian pharmaceutical industry and beyond - less than 24 hours after the documentary Sweet, Sweet Codeine: see why young pipo dey do codeine diet was released, the Nigerian government placed an outright ban on the production, importation and distribution of codeine in Nigeria.
Pharmaceutical companies indicted by the undercover reporting were closed and codeine products worth billions of Naira have so far been confiscated by the Nigerian authorities.
The future is even more exciting as we have recently launched the first Pidgin essay writing competition to be floated by international media in the region.
As we mark one year, we have had the privilege of securing interviews in Pidgin with dignitaries like the British High Commissioner to Nigeria, Mr Paul Arkwright; Africa's richest man, Aliko Dangote; Bill Gates; Nigeria's Vice President Professor Yemi Osinbajo; former Nigeria President Olusegun Obasanjo and French President Emmanuel Macron, among others.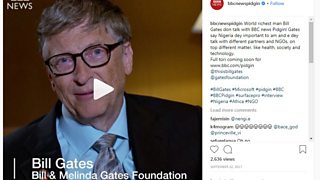 Welcome to the age of Pidgin!
Visit BBC News Pidgin here. Watch Emmanuel Macron and Bill Gates talking in Pidgin here. The BBC World Service expansion comes thanks to a funding boost of £289m from the UK Government.