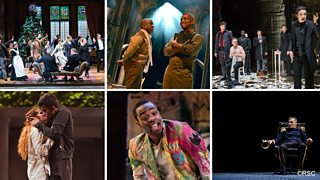 If I was looking for a manifesto for Culture in Quarantine, then Mary Beard and her contributors provided it on last week's Front Row Late (henceforth known as Mary's Lockdown Culture).
"It's in dark times like this," Mary said, "that art and music and literature and culture are more essential than ever… They can cheer us up, they can calm us down, but they can also help us to think harder about the state we're in and what might come next." Artist Anthony Gormley agreed: "For our early ancestors, art was one of the most important tools of survival, was one of the most important expressions of our connection with all living creatures, and I'm beginning to feel that is coming back to us in this time of enforced hermit-like existence." The full interview with Gormley goes out in tomorrow's episode.
These are sentiments that our greatest playwright knew all too well. Shakespeare's lifetime was chequered by outbreaks of the plague and it is believed he wrote King Lear during a period of lockdown when his theatre was closed. For his public, the act of seeing a play was an immense and joyous privilege afforded by moments of relative good health across society. His plays celebrate human communion and never shy away from confronting those forces - like illness and death - that threaten it.
Tomorrow, 23 April, is World Book Night. It is also thought to have been Shakespeare's birthday and - with the poetic symmetry we might expect - the day he died. For this reason, BBC Arts is delighted to join with two of the world's greatest Shakespearean companies - the Royal Shakespeare Company and Shakespeare's Globe - in releasing first-rate productions of some of his greatest works in a Culture in Quarantine special on iPlayer, which will be available for over three months.
From the RSC, we are hosting Hamlet with Paapa Essiedu, Macbeth with Christopher Eccleston, Much Ado About Nothing, Romeo And Juliet, The Merchant of Venice and Othello - all stella productions from the last five years. They will be joined by productions from Shakespeare's Globe: The Tempest, with Roger Allam as Prospero, and Emma Rice's brilliant interpretation of A Midsummer Night's Dream. They will be published on iPlayer on Thursday 23 April. Not only are these entertaining productions of great plays, but they are also on the curriculum and support home education.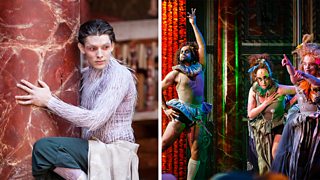 These titles will be joined by the BBC's own production of A Midsummer Night's Dream, as adapted by Russell T Davies in 2016, which was repeated on BBC Four last Sunday. And from this Sunday, they will be joined by the BBC's King Lear of 2018, directed by Richard Eyre and with an unforgettable cast of Anthony Hopkins, Emma Thompson, Florence Pugh and Andrew Scott. All together, this forms an iPlayer box-set of ten extraordinary productions of Shakespeare's greatest works. We are also adding the beautiful BalletBoyz production of Sir Kenneth MacMillan's Romeo and Juliet, featuring the stars of The Royal Ballet and set to Sergei Prokofiev's original score instead of Shakespeare's words.
On BBC Radio 3, a new production of Othello was broadcast last Sunday, starring Khalid Abdalla and Matthew Needham, and Henry IV, Part 1, featuring Iain Glen and Toby Jones, goes out this coming Sunday. These new productions join the huge back catalogue of plays and documentaries on BBC Sounds' The Shakespeare Sessions.
And of course Shakespeare will feature elsewhere across BBC services. BBC Radio Ulster's Culture Café, available on BBC Sounds, hears from director Zoe Seaton who is streaming a live performance of The Tempest in Lockdown with audience interaction via zoom. Mary's Lockdown Culture (BBC Two, Friday at 7pm) this week features Derek Jacobi reading Sonnet Number 98 and, as part of Get Creative at Home Masterclasses, Simon Callow will talk audiences through how to deliver the sonnets, while exploring the intriguing story of why - and to who - William Shakespeare wrote them. Finally David Tennant is joining Zoe Ball on the Radio 2 Breakfast Show tomorrow morning to talk about the experience of performing Hamlet and other Shakespeare roles.
Museums In Quarantine
Next week, Culture In Quarantine turns its attention to our museums and art galleries. These are buildings which carry our national collections and set the cultural agenda through exhibitions and artist commissions. They are, to an extent, the soul of our nation, revealing our history, our customs, our identity, and where we are heading. This is why free access is so fiercely defended in this country, and why the way they are run and the stories they tell are rightly debated and contested. When they close, we are to an extent untethered. We find ourselves wishing we visited them more when we could - and make mental plans to do so when the lockdown lifts.
Museums In Quarantine is a week-long celebration of the museums and galleries. We are offering extraordinary access to exhibitions and objects that are for the time being beyond reach. Like parents looking in on sleeping children, we will reassure ourselves that some of our best-loved treasures are safe and sound. Over the course of the week, four programmes (made by Swan Films) will run nightly on BBC Four that take us behind the closed doors of big national institutions. All four have been filmed in exceptional circumstances - when not only the public, but most of the staff, are unable to enter the buildings. To film in an empty gallery is normally every documentary director's dream. When it happens, it is out of hours - early in the morning or late at night - so to do so in the middle of the day is eery and disconcerting.
Alastair Sooke's solitary exploration of the Warhol exhibition at Tate Modern puts an unfamiliar light on this most iconic of late 20th Century artists. Those sumptuous stacks of soup cans seem more desirable than ever bearing in mind how empty such shelves have been in supermarkets in recent weeks. The other three programmes are collaborations between art historians, scripting and voicing remotely, while a lone camera roams the empty halls and galleries capturing the objects they talk about. Rembrandt's warts and all celebration of human society, as revealed in an exhibition currently shuttered in the Ashmolean in Oxford, is more appealing than ever for Simon Schama in isolation. For James Fox, works from Tate Britain's permanent collection - from William Hogarth to Mona Hatoum - remind us that artists have always tackled grief and despair, as well as offering signs of hope. And for Janina Ramirez, the British Museum is full of treasures revealing how great civilisations have confronted the mysteries of life. Both Fox and Ramirez recently recovered from coronavirus and they leapt at the opportunity to talk about works, from the safety of their homes, they long to see again.
These four films, running from Monday onwards, provide the build-up to MuseumFromHome: a whole day of broadcast and social media activity on Thursday 30 April delivered in partnership with Art Fund, National Museum Directors' Council, the Museums Association and #MuseumFromHome.The ambition is simple: to ensure the public continues to have access to the collections and exhibitions they love even when they cannot enter the buildings that house them.
A MuseumFromHome live page will host content from museums and galleries across the UK with things to watch and do at home. This will include further commissions with BBC Arts: the Art Deco show at The Sainsbury Centre in Norwich, and a blockbuster exhibition on The Clash (marking the 40th anniversary of London Calling) at the Museum of London. We're also going to be joining with Museum of the Home to ask audiences to share their personal experiences of home life in lockdown as part of a new national collecting project called Stay Home.
From the greatest plays ever written to the finest collections and exhibitions to be found anywhere in the world, over the next ten days Culture in Quarantine continues to provide precious access to the arts, helping to keep culture alive in our homes and our hearts.