I'm excited. This Saturday sees the launch of a major new music event that strengthens the BBC's relationship with a diverse youth audience, relatively underserved by most broadcasters.
BBC Asian Network Live represents the best in Asian music as championed on the station. For one night only, some of the hottest acts on the British-Asian and international music scenes are brought together. Plus, exclusively for Asian Network, the event will feature unique artist collaborations, and Indian stars Badshah, Aastha Gill and DIVINE - will be making their UK performance debuts.
The event will be broadcast live on Saturday 30 April on national digital radio station BBC Asian Network (which broadcasts to an average audience of 563,000 listeners a week), and artist performances will be available to watch at bbc.co.uk/asiannetwork and on BBC Red Button after the event.
Asian Network Live is a defining moment for our station, which has grown in reach and is building a model of collaboration with the rest of the BBC. I'm writing this a week after seeing figures for our recent 'visualised' comedy programme seen by an audience of 500,000+ on iPlayer and Red Button.
BBC Asian Network Live is the station's biggest ever live music event - joining the BBC's other national music radio stations who each host their own annual moment. This is relatively new territory for us, but with the authenticity and access the Asian Network has come to be recognised for I know we are right on the frontline in terms of connecting with British-Asian audiences.
A glance through the 2011 census illustrates exactly why it's important for us to build a strong connection with British-Asian audiences. 1 in 10 of people in Britain under the age of 30 comes from an Asian background; the average age of people from a British-Bangladeshi, Pakistani or Indian background is 24, 25 and 32 respectively. Those statistics matter now and for the future.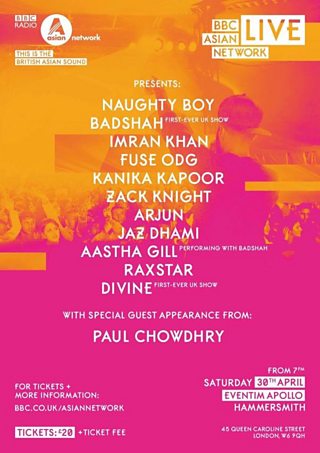 BBC Asian Network Live takes place at Hammersmith's Eventim Apollo, in a capital where 17% of the population comes from an Asian background. It's a few miles down the A4 from where I grew up in Hounslow West and attended Lampton School. Twenty three years ago I launched a weekly Asian student club-night called 'Bombay Jungle' – playing urban Asian music - at The Wag Club on London's Wardour St. Now, over two decades later, I'm immensely proud to be leading a station that's delivering something of this scale.
We wanted to make BBC Asian Network Live a unifying moment that inspires and galvanises young British-Asian audiences. We also wanted to create a new flagship event reflecting a world where Asian and 'mainstream' music influences come together, for an audience that is inspired by its cultural heritage, but isn't defined by it. We also wanted it to point to the future, championing the under-the-radar British youth culture that is represented on the streets of Forest Gate to Handsworth, and in huge vlogger hits on You Tube, but rarely portrayed on-screen.
Some of the key highlights on the night will include exclusive collaborations that reflect BBC Asian Network's programmes. Headline artist Naughty Boy performs with Bollywood singer Kanika Kapoor and Asian Network presenter (and former Eastenders and Bend it Like Beckham actress) Preeya Kalidas. Afrobeats star Fuse ODG will also perform with India-based rap luminary Badshah and London-based Asian R'n'B artist Zack Knight. At one stage on air last week we had a three-way conversation with them between Accra, New Delhi and London and they've since produced an exclusive new track for our event.
We also have the pick of the best from the current crop of UK Asian artists, including Raxstar, Arjun, Jaz Dhami alongside international artists including India's Kanika Kapoor and Holland's Imran Khan.
We even encouraged Paul Chowdhry to give up comedy and become a grime MC for the night, recording a special 'Fire in the Booth' with 1Xtra's Charlie Sloth that will have its premiere at the event. Stormzy's 'Shut Up' will never sound quite the same again.
We also wanted to help enable creative collaborations between community organisations and on-stage performers. So we asked young classical Indian dancers from The Bhavan Centre, an institute located one mile away from the Apollo, to film themselves performing to Naughty Boy's hit single 'Running'. We sent it to his team, they loved what they saw, and they'll now be performing with him at Asian Network Live.
Our production teams also teamed up with the BBC Academy to run masterclasses at Villiers High School, Southall and Richmond College over the last week. Local heroes Panjabi Hit Squad went back to their former comprehensive – Villiers High School - and it was a real homecoming moment for them to be cheered on-stage by a group of 6th formers and Year 11 students.
Big moments like these are always about much more than the physical event. They are events which serve to galvanise audiences and creative industries - in this case an under-represented part of the population. It also helps make a radio station feel more alive. This is something I, in my role as Head of Programmes, and Bob Shennan, Controller of Asian Network and Director BBC Music, think is central to our ambition for the station. The impact is already being felt in a number of ways, which includes more people getting in touch through social media and the strong ticket sales from cities right across Britain.
We are a radio station on a mission.
Mark Strippel is Head of Programmes for BBC Asian Network
Tickets for BBC Asian Network Live are available at bbc.co.uk/asiannetwork.
Asian Network Live will be broadcast live on BBC Asian Network and the whole show will be available to watch on BBC Red Button on Sunday 1 May from 7pm. Highlights will be made available on BBC iPlayer and at bbc.co.uk/asiannetwork.
Watch video clips featuring BBC Asian Network's newest crop of presenters including Guz Khan and Preeya Kalidas.