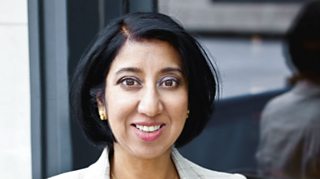 News and Current Affairs reporter, Rani Singh. Photo credit Vera Bardo.
BBC Alumni contributor Rani Singh reports for the BBC as well as numerous other media organisations and platforms. She started her BBC career as an actor in EastEnders but soon realised that there was a wider world outside Albert Square that needed investigating.
When I joined EastEnders as a regular character and Asian storyline advisor, the soap opera had audiences of 20 million viewers a week. Getting thrust into popular culture was a sharp learning curve. They were heady days: roughly one in four people might recognise us as cast members whenever we stepped outside our front doors. My minimarket owner character Sufia Karim had lots of family problems, so viewers were sympathetic and often gave me unsolicited advice. Playing the part I became more aware of the media's place in public life and discovered the power of working with a big audience.
In addition to acting, I am a writer-presenter-producer; it's a role that I still love. I started in television as a children's presenter and writer, determined to work across as a many different media platforms and in as many areas as I could, until I discovered where I felt most fulfilled. I loved presenting "as live," (recording the whole show in one take) on programmes like Play School.
Broadcasting on national television is a nerve-racking but invaluable experience and continuing drama series like EastEnders are fast-paced so you need to be word-perfect even for rehearsals. All great experiences from which I learnt a great deal.
When my on-screen EastEnders family was given a storyline break, I explored other areas at the BBC. It was on the Radio 4 Producer Training Scheme that I learnt about creating pictures in sound – that was a voyage of discovery. Fascinated by the medium, I originated documentaries and drama series.
The formal training structures that the BBC offered me then were vitally important to my development. Apart from being rigorously trained in the detail of making programmes, the BBC made tutors available to me who taught me interview techniques and introduced me to presenting. One of my BBC trainers instructed me to "ask the questions that no-one else does, dig deep and be original." That piece of advice follows me through my career as my watchwords.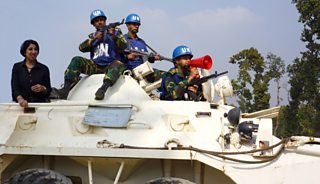 Rani on a UN peace-keeping training operation just outside Dhaka
I started going to various countries in South Asia more regularly and had fun producing the great BBC correspondent Mark Tully for an investigation in India. Needless to say, he became a role model.
Before one documentary visit to Pakistan to interview the late Benazir Bhutto, the then World Tonight Editor, Alistair Burnett commissioned a series on ethnic violence in Karachi with Shaun Waterman producing me from London. Meeting the challenge of that assignment was very exciting. I was taken into no-go areas of the port city where drugs, gun running, car-jacking and ethnic tension form the backdrop to daily life. There was no fully prepared script, no cosy hour in make- up, no warm trailer for shelter and relaxation, or team of production staff assisting my every move. I was on my own in Karachi armed only with a recording machine, a plan and a mission.
I'd found what I was looking for in terms of career development, I was hooked on the thrilling genres of factual, news and current affairs. I realised that above all I had to remain neutral at all times. I needed a blank canvas on which to write my stories. And, to succeed in News, I had to stifle my soap actor image and steer clear of the tabloids! I decided to pay my dues to broadcasting with humility and prove my ability as a reporter-producer by working all hours recording, cutting and editing in sometimes deserted studios. I began filing for English language news and current affairs shows on various BBC radio networks.
My acting and writing background came in useful in helping me to empathise with people like Pakistanis I might meet in a remote border village, so that they felt comfortable talking with me. I had no difficulty in merging with the local scenes and had Asian languages to draw upon, enabling me to communicate with the subjects of my broadcasts. It was all storytelling, after all, the common thread of my career. That's why writing for radio programmes like From Our Own Correspondent and its outgoing editor Tony Grant are always a joy; Tony taught me that FOOCs are about capturing a moment as if it were a film scene. Great advice that continues to resonate.
I rode pillion into a remote part of Srinagar to expose the plight of orphan boys in the Kashmir valley, the first time that story had been examined. Listeners who were affected by the story sent parcels and clothes to the BBC to forward on to the young boys. I also went undercover into Srinagar's most notorious jail to interview fearsome militant ringleaders who had started an insurgency against India. I appreciated - then and now - the opportunity to influence the agenda of news programmes.
Later, and having been adequately trained for 'category one hostile environments', Alistair commissioned a series of reports from Bangladesh during its last general election. My experience enabled me to get the world exclusive interview with Prime Minister Sheikh Hasina for The World Tonight.
On my return to London, Alistair decided to invest in my development by commissioning further training for me from the College of Journalism at the BBC Academy. I was privileged to have senior trainer and former news producer Samantha Upton spend several days with me explaining the fine points of digital recording, mixing, editing and how to 'file to traffic' (sending reports directly into the newsroom). Sam was patient and methodical, teaching me tasks by gentle repetition. She inspired by introducing me to incredible reports by esteemed correspondents such as Matthew Price, Hugh Sykes and Jonny Diamond, and I felt my synapses firing. She explained in detail how each used different techniques and how each was effective. I absorbed every word as though it were liquid gold and discovered the truth behind the often unlauded fact that BBC training is among the best in the world.
TV is still my first love, but these days my on-screen presenting or producing is more about fact than fiction. I'm currently viewing the rushes from a shoot in India commissioned by Virgin Media, in which I interview the Dalai Lama and investigate an untold part of his story. A book has been commissioned too. I regularly contribute to the Forbes Asia channel at Forbes.com, write regular columns for the Asian Voice and Virgin.com as well as providing analysis for Sky News and Al Jazeera English. These different wings of my work coalesce and strengthen my current BBC reporting.
I've found my passion: field reporting, telling stories. Bringing breaking news and scoops to audiences - be it an exclusive interview with a convicted terrorist for Newsnight, or insights from the fast-moving global political and social scene - is still utterly thrilling.