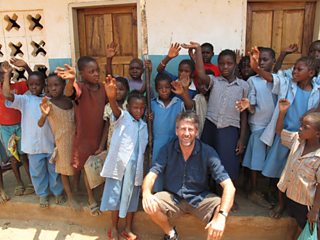 http://www.bbc.co.uk/blogs/aboutthebbc/sport.jpg
The shocking images that we continue to see from Haiti
are a stark reminder of just how quickly tragedy can strike, and in equal measure how compassionate we can be as a nation in response to it.
Today sees the official launch of Sport Relief 2010, the fund raising collaboration between the BBC and Comic Relief. On the weekend of the 19 - 21 March, Dragons' Den, Top Gear, Strictly on Tour, BBC Sport's stars and hundreds of thousands of members of the public will 'rise to the challenge' for a weekend of fund-raising to help some of the neediest people, many of them in the UK and some, like those in Haiti, on the other side of the world.
Recently I was lucky enough to join colleagues from both the BBC and Comic relief, as well as Strictly and former England rugby star Austin Healey and Something for The Weekend presenter Tim Lovejoy on a visit to one of these places: Zambia.
Although the name conjures up images of the epic Victoria Falls, romantic steam engines traversing the Benguela Railway and colourful postage stamps, since gaining independence in 1964, Zambia has witnessed the inevitable boom and bust of tying your prospects to just one crop - copper - and it is now struggling to feed its people.
Zambia is one of more than 40 African countries where Comic Relief cash is at work and making some progress battling the worst of the continent's problems - shortage of food and water, poor infrastructure, corruption and chronic health issues including the devastation of HIV/ Aids.
The huge challenge it faces is reflected in some devastating statistics - 15 percent of the population is suffering from Aids/ HIV, 64 percent of people live on less than one dollar a day and life-expectancy has fallen to just 42 years.
But in a land where you could excuse people for feeling downtrodden the support from Comic Relief is bolstering the spirit and energy of small neighbourhood, self-help schemes that use local expertise to provide management, support and training to help young and old get on their feet and through the day.
Two of these schemes - the Bwaafana Home Based care organisation which received nearly £300,000 from Comic Relief and the Lusaka-based Women For Change, with a grant of £637,000 - epitomise this resilience. Inspirational leaders Harriet and Bridget manage teams which make a difference on a daily basis by building networks of helpers, nurses, teachers and farmers that tackle the challenges head on where people live - and die.
Even our short time in Zambia made us appreciate how tough these projects have to work to stay afloat amid the challenges and prejudice of what one local school headmaster told us was the traditional mantra of "Educate The Boy and Marry The Girl".
So many of the major inequalities in Zambia stem from a lack of knowledge about health, gender and education, so it was wonderful to visit Mabele School and see boys and girls in class together, getting a basic education in their tiny, hot classrooms. Although a beneficiary of Comic Relief funding, the headmaster has 250 children in six classes, all orphans, and is the sole teacher. Some children walk two hours each way to school without any breakfast in their stomachs - so you understand the scale of the problems he still faces.
But the joy when Tim and Austin handed over a proper football for them to play with on the school's sandy and bumpy pitch showed the huge difference small gestures can make. The kids had real dreams and ambitions - to be teachers, a doctor, a pilot and a lawyer and it filled you with hope that these self-help projects will catch on and take off - an epidemic of goodness in a land where other epidemics have brought only misery and a rising death toll.
We can do so much to help combat such misery and suffering at home and abroad. Since Comic Relief began in 1988 it has raised more than £500m through its Red Nose campaigning on BBC Television. And now Sport Relief, a relative newcomer only born in 2002, is building yet more momentum, fusing the power of entertainment, sport and personal challenge to make a difference too.
My abiding memory of that trip is of an abjectly poor family farm where a mother of seven with her goats and gaggle of hungry children lived, emaciated and exhausted. I remember how her scrawny baby boy reached into her blouse and pulled out a tiny empty breast. Nothing to eat, no meal in sight, not even there. We gave them bananas and the few bottles of water we had with us and as we left the baby boy was sucking hard on some fruit: perhaps enough goodness and nourishment to get through another week. For this family as well as for those in Haiti and across the globe, Sport Relief 2010 just can't come soon enough...
Get involved in Sport Relief or donate at www.sportrelief.com