A round-up of BBC announcements and press releases and blogs, plus some highlights from our TV, radio and online output this week.
Awards
On Sunday (17 January) Idris Elba was named Best Actor for his performance in Luther at the Critics Choice Awards in California.
In addition River City writer Louise Ironside took home the prestigious Writers' Guild of Great Britain Best Long Running TV Series' award for her episode of the Glasgow set drama.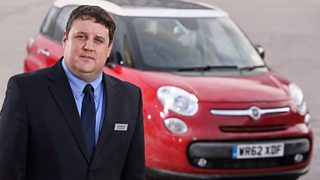 Peter Kay's Car Share was one of seven BBC wins at the National Television Awards this week.
On Wednesday, Great British Bake Off, EastEnders, Peter Kay's Car Share, Strictly and Doctor Foster all received National Television Awards. Danny Dyer won too for his performance in EastEnders, and Suranne Jones for her role in Doctor Foster. Aidan Turner clinched the Impact Award for his role in Poldark.
Announcements this week
This week, we launched our plans to mark the 400th anniversary of Shakespeare's death with its most far-reaching celebration of Shakespeare's work ever broadcast, the BBC Shakespeare Festival 2016. The Media Centre has complete coverage of our programming and online content. A dedicated website has been set up by BBC Arts for the festival. Follow @BBCShakespeare on Twitter for more updates. Read Helen Boaden's blog about the launch here.
On Tuesday a significant reorganisation of BBC TV was announced, which will see Charlotte Moore (currently Controller, BBC One) become Controller, TV Channels and iPlayer.
In programme news it was announced that BBC Two will broadcast an ambitious new series telling A Black History Of Britain, written and presented by acclaimed historian and broadcaster David Olusoga. The channel will also show major season of programmes about China.
Meanwhile BBC One has commissioned a brand new series to celebrate the work of one of Britain's most-loved comedians, Peter Kay. Peter Kay's Comedy Shuffle will feature highlights from his numerous TV and chat show appearances and his record-breaking music videos. The network also confirmed everyone's favourite community leader Citizen Khan will return for a fifth series.
BBC Two had comedy news mid-week when it announced the third series of the award-winning Inside No 9 had begun filming with a star-studded cast alongside creators Reece Shearsmith and Steve Pemberton. On Wednesday, we announced that transgender comedy Boy Meets Girl will return to BBC Two.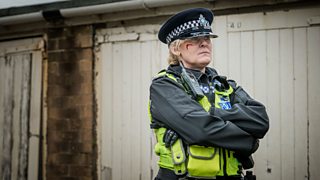 Sarah Lancashire plays Catherine in Sally Wainwright's multi-BAFTA-award-winning Happy Valley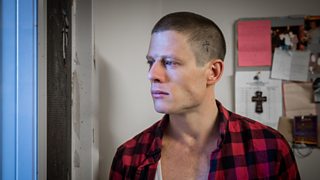 James Norton returns to Happy Valley with Sarah Lancashire in series 2 due to air in February
Fans of Happy Valley will be pleased to learn that the second series of the hugely popular drama starring Sarah Lancashire will air in February. A media pack with interviews is available on the Media Centre website.
BBC Four will host the United Kingdom's biggest-ever national song search for the Eurovision Song Contest in Eurovision: You Decide. This will be the first time in six years, the public will choose the song and act that will represent the UK at this year's contest in Sweden. Tickets for the live 26 February show went on sale later in the week.
In radio news, Radio 2's 500 WORDS competition launched on Monday and this year features a Royal Judge - the Duchess of Cornwall. The writing competition is for children aged between five and 13 and the deadline for stories is Thursday 25 February. Radio 2 Editor Helen Thomas blogged about the competition's success.
Radio 2 also set a Guinness World Record - appropriately enough on the night when BBC Radio 2's Friday Night is Music Night celebrated the Guinness World Record 60th Anniversary. In a PopMaster reversal of sorts, Radio 2 presenter Ken Bruce was able to recognise 13 ABBA songs played in a minute, by Swedish pianist Robert Wells.
On Tuesday BBC Radio 6 Music announced their line-up for the 6 Music Festival which will take place in Bristol from Friday 12 to Sunday 14 February. Tickets for the festival go on sale on Monday 25 January.
While BBC Music launched their major Get Playing initiative and a search for UK's most inspirational amateur orchestra.
BBC Sport jointly announced with ITV broadcast plans for 2016 RBS Six Nations Championship.
Also this week, Head of BBC Learning Sinead Rocks updated teachers on progress with the micro:bit. On Thursday the BBC Press Office issued a statement regarding the Dame Jame Smith Review. And today, we announced that Janice Hadlow, Controller Seasons and Special Projects, is to leave the BBC.
BBC Two announced the commissioning of The Slum (working title), a brand new living history series for the channel in which one corner of the East End of London will be taken back to the late Victorian era – a time when East End poverty began to make the headlines.
BBC Music has formed a new partnership with Record Store Day UK as the event gears up for its ninth annual celebration of independent record shops and the vinyl format. Starting on Monday, Steve Lamacq tours the UK broadcasting from Britain's great independent venues. Also from BBC Music, keep an eye out for The Most Dangerous Band In The World: The Story of Guns N' Roses airing on BBC Four on Friday 5 February.
TV, Radio and Online Highlights
The Getaway Car started on BBC One on Saturday in which Dermot O'Leary oversees five couples who participate in a series of car-based challenges.
BBC iPlayer premiered The Rack Pack on Sunday 9pm.
The Snookerbacker blog said, "... like all great watches, it left me wanting more. I'll watch it again, and again ..." Rachel Ward on The Telegraph gave it 4 stars: "The humour was gentle, coming from a wry recognition of the era's excesses". Louise Miller on Den of Geek wrote, "though billed as a comedy drama, to its credit the film isn't blind to the tragedy of Higgins' binges. It's his story as much as that of snooker's exploding 1980s popularity, and that's unavoidably the tale of a man whose excesses, anger and paranoia chip away at his life until he has nothing left."
The Only Connect Final hosted by Victoria Coren aired on Monday. We won't give away who won, but the special event was marked with a string quartet in the studio and, according to Victoria, "a full-size orchestra out the back". The most recent four episodes of the popular series are still available on BBC iPlayer.
On radio, Radio 4's The Infinite Monkey Cage returned for a news series this week, so too From Our Own Correspondent.
Radio 1's Future Festival returned for a three-hour show hosted by Annie Mac and Huw Stephens.
Michael Grade's Brits In Hollywood concluded this week on Radio 2. All three episodes of the documentary series are available on BBC iPlayer.
Yesterday, Radio 5 live devoted 24 hours of live broadcasts from Queen Elizabeth Hospital Birmingham presenting a snapshot of a day in the life of one of the UK's busiest hospitals.
Also on Thursday this week, BBC Radio 3 broadcast a gala performance for the Association of British Orchestras live from the Symphony Hall in Birmingham. Controller Alan Davey spoke after the event - the full speech is available on the Media Centre website.
Unusual nurturing methods, from manager Jason Appleyard at a phone store in Lewisham, ensure that Kiet and Ayyub have fast become two of the best sellers in one episode of Phone Shop Idol.
BBC Two's Phone Shop Idol and Max Shapira's doumentary about modern-day entrepreneurs behind Britain's black market Barely Legal Grafters.
Lucy Worsley's history tracking the Romanov dynasty concluded this week. All three episodes of Empire of the Tsars are available on BBC iPlayer. Historian Michael Wood began his six-part series of The Story of China this week on BBC Four.
BBC iPlayer will be releasing a special tribute to Motorhead frontman Lemmy - Lemmy: In His Own Words - at 9pm on Friday 22 January. We'll update this post with the link when the programme is available.
Former BBC tennis commentator Gerry Williams died earlier this week. Des Lynam paid tribute to his former colleague's career in a tribute written by the Telegraph's Jim White.