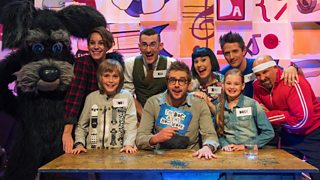 CBBC's The Dog Ate My Homework
Last night (Wednesday 9 May 2018) the RTS Scotland Awards 2018 were held at a ceremony at the Old Fruit Market in Glasgow.
BBC people and programmes took home awards in 17 categories. Notably, Ewan Angus the outgoing BBC Scotland Commissioning Editor, Television was given the The RTS Scotland Award 2018: an industry award for outstanding contribution to television in Scotland.
All the BBC winners are listed below:
Documentary and Specialist Factual, Sighthill: BBC Two Scotland
Documentary and Specialist Factual: History, Brian Cox's Russia, BBC Scotland
Documentary and Specialist Factual: Arts, Terry Pratchett: Back in Black, BBC Scotland
Documentary and Specialist Factual: Science and Natural History, Trust Me, I'm A Doctor: Mental Health Special, BBC Two
Drama, Queers – The Man on the Platform, BBC Four
Current Affairs Programme, Football Abuse: The Ugly Side of the Beautiful Game, BBC One Scotland
Sport: Programme, Glasgow 1967: The Lisbon Lions, BBC Scotland
Comedy, The Dog Ate My Homework, CBBC
Children's, Gudrun The Viking Princess, CBeebies
On Screen Personality: Iain Stirling The Dog Ate My Homework, CBBC
Director: Biança Barker A Family Divided, BBC Scotland
Professional Excellence: Camera: Glen Milner Handmade in Hull, BBC Four
Professional Excellence: Sound: Kahl Henderson Accidental Anarchist, BBC Four
Professional Excellence: Post Production Editing: David Arthur Sighthill, BBC Two Scotland
Professional Excellence: Post Production Graphics and Tilting: Playdead, Trust Me, I'm A Doctor, BBC Two
Innovation Award, Kidder, BBC The Social
The RTS Scotland Award 2018: Ewan Angus