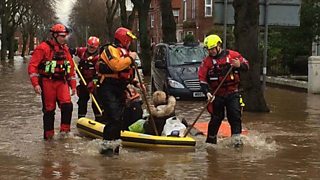 BBC Radio Cumbria Managing Editor Mark Elliott remembers Storm Desmond and the lasting damage it caused, and considers the importance of local radio in times of flooding.
The images of raging rivers, broken bridges and streets underwater still send a shiver down the spine. The lives of thousands thrown into turmoil. But those situations are when BBC Local Radio comes into its own – another "emergency service", mobilising to broadcast around the clock to keep our communities informed in the most difficult of circumstances. When the flooding is so severe and so widespread, it's tough to keep going, but when the storms and weather warnings continue for six weeks as they did in Cumbria last winter, it becomes a monumental logistical challenge. Add to the mix numerous members of staff having to deal with their own homes being flooded and you'll understand why I have the utmost admiration for my team for showing great stamina as well as professional skill when responding to Storm Desmond and its aftermath.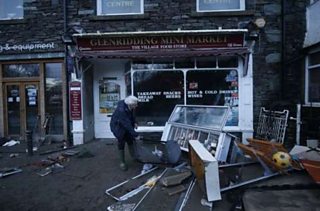 But the flooding story doesn't stop when the waters recede. There's the clean-up, the rebuilding, the insurance, the health issues – it goes on and on. Even now, there are many hundreds of people in Cumbria who are still not back in their homes or businesses. So marking the anniversary of the floods over the coming week is a difficult thing to do.
A montage of BBC local floods coverage
There are so many different angles and so many people affected that you can't focus on them all. But, as ever, we tell the story through the people involved. We follow the struggles of four generations of a family living in one small house after being forced out of their home, the children who've spent a full year away from their school which will now have to be rebuilt on a new site, the staff at a Lakeland hotel which is only just receiving guests after being flooded four times last December, the helicopter crew nominated for a global award for rescuing people in what they describe as the worst conditions they've ever flown in.
Listening back to the archive material is a stark reminder of the heartbreak and the misery endured by thousands, but also the multiple acts of courage and kindness in the face of adversity - branded "The Spirit of Cumbria" by those communities pulling together in the darkest of times. And there's pride – pride in my team and the way we responded when it really mattered to our audience. That's real public service broadcasting.
Mark Elliott is Managing Editor, BBC Radio Cumbria