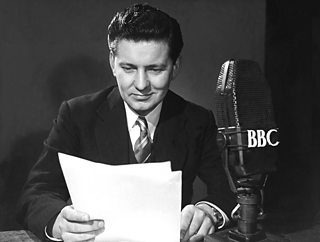 Richard Baker reading over his script before the BBC TV News at 7.30pm on 5th July 1954.
In the first of a regular series of posts on About the BBC, here's a collection - a summary, if you like - of some of the blogs written by colleagues across the organisation over the past seven days.
Director Diarmuid Lawrence writes on the TV blog about the production of the Mystery of Edwin Drood:
... I like to think that the governor himself, the extraordinary Charles Dickens, would approve even if, as seems highly likely, it wasn't what he intended at all. We all had great fun second-guessing him and the finished films are agreeably recognisable as true to our original vision.
Comments on the TV blog responded well to Diarmuid's hope, many commenting on great performances, with one calling for a TV adaptation of Dickens' Hard Times.
There's an honest if dispiriting assessment of
Thinking Aloud
presenter
Laurie Taylor's experience at the gym
, Ben Motley's post for the
Radio 4 Extra blog
on recording '
Dickens on Location
' includes details of forthcoming radio adaptations of some of Dickens' works aired on BBC Radio 4 Extra including
Hard Times
(beginning 16 January),
Barnaby Rudge
(beginning 25 January),
Little Dorrit
(beginning 30 January),
Our Mutual Friend
(beginning 6 February).
The BBC Audio Drama Awards shortlist appears on the BBC Radio blog.
Former Channel 4 Hollyoaks actress Sasha Valentine describes what she discovered while working on the BBC Three documentary Websex - What's the harm?
I hooked up with Professor Andy Phippen who was running a study on what 16-24 years olds were doing online and what he discovered shocked me. An amazing 80% of those asked have used either a smartphone or the web for some kind of sexual contact.* This is the first time anyone's ever had any kind of figures about how widespread websex is.
The programme is available on BBC iPlayer for seven days.
Composer Michael Zev Gordon continues his series of posts about the process of composing a new piece for the BBC Symphony Orchestra on the BBC Radio 3 blog.
PRS for Music Foundation Executive Producer Vanessa Reid also posts on the Radio 3 blog launching a UK tour of performances of twenty specially commissioned twelve minute works. The music will be performed in venues across the UK, broadcast on BBC Radio 3 and be part of a weekend celebration at London's Southbank Centre from July 13-15.
Over at the BBC Academy, the BBC College of Journalism website celebrates its fifth birthday with a post written by the College Director Jonathan Baker pointing to a forthcoming website redesign.
Finally, a big hand to the Writers Room for being the first blog to have been moved on to a new publishing system with a new page design (BBC blogs network product manager Jessica Shiel explains the work involved in implementing a new blogging platform at the BBC on the BBC Internet Blog).
The Writers Room have marked their 'move' with "an advisory list of potential delights and horrors when writing Doctors scripts". Point number nine raised a smile,
Don't begin an episode with someone making an appointment to see a doctor.