It's a big day for CBBC today.
Today we wave goodbye to our very hard worked green and black logo (it's been a sturdy companion for almost a decade) and say hello to a colourful and versatile identity that is box fresh and fit for purpose in a mercurial and constantly shifting media landscape.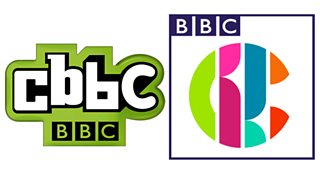 The old CBBC logo (left) gets a colourful new look
Back in 2007 we could never have imagined just how emphatically the CBBC audience (6-12 year olds) were going to lead the on-demand revolution and embrace so many different types of content on a mind-expanding array of devices. Our job is to keep one step ahead of this agile age group – celebrating their immersion in all things digital whilst maintaining all the CBBC qualities that we know our viewers love. We've worked hard to ensure that our content does just that – reflects our audience on all our platforms and is ready for action when and how they want it. Our old logo just wasn't devised to perform in a variety of digital spaces which means that it doesn't work in the way that we want it to today.
We are now the proud owners of a versatile and dynamic logo which works in every space and is designed to appeal to both ends of our broad age spectrum. Whether on large-screen TVs or hand-held devices our new brand identity is bright, mischievous and sophisticated – just like the CBBC audience who helped us to choose it and have told us they love it! Take a look below...
Our new look has an important job to do in removing barriers and helping us connect to the widest possible audience. It offers a badge of quality that our older viewers can appreciate as much as younger ones. Though many watch our more mature shows well into adolescence, we know that as children grow up they feel compromised by overtly childish associations. Our new logo is not overt, it doesn't scream 'Children's TV' but its various iterations are fun and unpredictable and have broad appeal.
Everyone in BBC Children's is well versed in responding to new creative opportunities. We know how important it is that we change with our audience and nowhere is this more apparent than in Presentation – or what our viewers currently know as the 'CBBC Office'.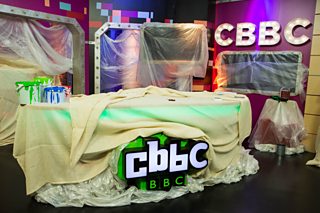 Presentation is the beating heart of the Channel and it's where we foster fabulous engagement with children of all ages. We asked hundreds of kids how they'd like to rename the Office as we wanted them to own and feel part of our rebrand moment. They loved being trusted with this task and their clear preference was 'CBBC HQ'.
For over 30 years Presentation has been the place where children can get the latest Channel news, join in games and chat to Hacker and their favourite stars – so why not call it HQ, it makes perfect sense!
We work hard to inspire and enable children with our broad range of TV programmes and digital experiences, and we love to portray as many of our audience onscreen as we possibly can. Our new Channel idents therefore marry the well-known grooves of everyday life – like walking to school with your friends or enjoying a sleepover – but with an added sprinkle of special CBBC 'Just Imagine' stardust. Have a look at the link below to view a couple of our new idents...
But of course, shiny new look aside, it's business as usual on the Channel. For those that don't know, CBBC is the home of fun, laugh-yourself-smart content and dynamic digital experiences. The BBC in miniature for kids, we offer everything from comedy and entertainment to factual and drama, with lots more in-between. I wonder what my good friend Hacker T. Dog has to say about our new look.
I can only liken the rebrand process to making the decision to embrace a long overdue personal makeover and then feeling self-conscious and nervous about how people you really care about are going to react to your new look! It's only when your nearest and dearest look you in the eye and say they love the new you that you can really relax and enjoy the attention. So we made sure that we asked lots of our trusted audience members along the way – they've guided the process from the start. Here's what some of our young friends in Manchester had to say about the finished product...
A big thumbs up it seems – if the kids love their new look CBBC that's job done as far as I'm concerned.
Cheryl Taylor is Controller, CBBC