It's been a big year so far for the development of the BBC Sounds app - we've added Android Auto and Apple CarPlay support, track now playing live information, autoplay, live rewind and live restart, sleep timer, links from on demand tracklists to Spotify & Apple Music and Siri Shortcuts.
Today we're increasing the number of categories in the BBC Sounds app, from 12 to 40. These can be accessed from the home screen or via the Search tab, and include some new categories that weren't on iPlayer Radio, such as Podcasts, Mixes, Audiobooks and Children's.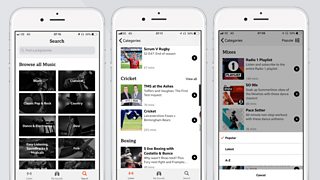 We've also added sub-categories to some of our largest and most popular categories. So cricket fans will be able to go to the Sport category to find the new Cricket sub-category, where they will find podcasts like Tailenders or TMS at the Ashes, and fans of crime drama will now be able to navigate to the Crime sub-category within Drama to find a series like Annika Stranded, or Richard Barton: General Practioner!
Listeners will also be able to sort category lists by recency - so that the most recently added programmes and podcasts within each category appear at the top; by popularity - so that listeners can see which programmes and podcasts others are really enjoying within each category; and by A-Z as well. We'll soon be adding sortable category lists for those categories which have sub-categories (e.g. Comedy & Drama), in case you don't know what type of Comedy or Drama you're in the mood for or just want to browse everything that's available in that category.
Another update we've made recently that we know will be greatly appreciated by some of our listeners is support for Chromecast. Now, listeners can stream any of their favourite music, radio or podcasts from BBC Sounds to their Chromecast device, including Google Home speakers. We know that this is something that's held a lot of iPlayer Radio users back from making the switch over to BBC Sounds, and we're really pleased that Chromecast users will now be able to listen to Sounds in this way.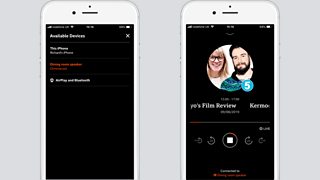 And the improvements don't stop there, we've made further enhancements to Continue Listening to provide even easier access to the next episode of programmes and podcasts you're listening to, and we've refined Autoplay to queue up more closely-related content after you've finished listening to a programme or podcast (Autoplay can easily be toggled off if you'd prefer silence after your selected episode has finished). There are lots more enhancements lined up for the near future, including more information for live and future programmes, easier access to your local radio station, release date information on list views and improvements to search. This means that all the major features and functionality that were on iPlayer Radio are now available on BBC Sounds, as well as so much more!
It's been a busy year for the BBC Sounds app, and audience feedback has been essential in helping us to make the improvements we've made so far. Please keep letting us know your thoughts and new things you'd like to see, so that we can keep making your experience with Sounds even better.