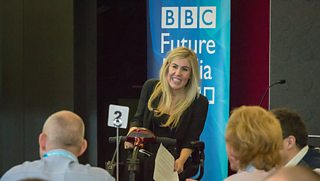 Attendees at the BBC's second People with Disabilities in Technology Development and Networking Day
Toby Mildon leads the Diversity & Inclusion team in BBC Future Media as the department attempts to increase the diversity of its staff. In this post he reports on last week's People with Disabilities in Technology – Networking & Development Day which coincided with Reflect and Represent, a week of activity to promote diversity across the BBC and saw 50 invited attendees gather at MediaCityUK to find out more about BBC Future Media and the work it does.
The BBC is one of the most renowned story tellers globally and strives to be one of the most creative organisations in the world. We can only do this with an array of first-rate skilled and talented people working across the corporation, offering their diverse abilities and life-experiences.
At the present time the BBC is striving to increase the number of disabled people working at the BBC to 5.3% (5.0% for those in leadership roles). And in pursuit of that, the BBC recently announced plans to appoint a new Disability Exec who would be responsible for championing disabled talent and projects across the BBC. That role is currently in recruitment and applications close next Monday. The work of our existing schemes to offer employment opportunities to disabled staff continues with our Elev8 and Extend schemes.
We know that 3.4% of BBC Future Media are impaired in some way because they chose to disclose their disability. Comparing that figure with the wider BBC, the total of disabled staff is 3.8%.
In Future Media, we're determined to address this gap within our own workforce to better reflect the diversity of our licence fee payers in pursuit of the best digital products. And on Friday 6th March we moved a step closer by hosting the second People with Disabilities in Technology Development and Networking Day (#BBCPDT) at MediaCityUK. Over 50 invited attendees took part including graduates through to those with some professional experience. All of the attendees were looking to advance their careers in digital media and technology, but don't presently work for the BBC.
Tara O'Reilly, Head of Business Operations, started the day off by providing a little background about Future Media. Explaining our commitment to inclusion and diversity, Tara quoted Tony Hall's speech outlining how the organisation is to become "an internet-first BBC which belongs to everyone and where everyone belongs". Presentations followed from Richard Southorn, BBC HR Direct Access Unit Manager, and Paul Bepey, Chair of BBC Ability (the network for staff with disabilities) and Assistive Technology Manager, who leads the Assistive Technology service for the BBC.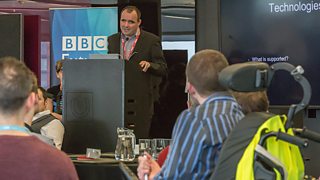 Paul Bepey presents at the People with Disabilities in Technology Development and Networking Day
We also screened 'A Film About Disability', something we featured on the About the BBC Blog a year ago.
BBC Disability Affairs Correspondent Nikki Fox facilitated a Think Tank discussion exploring the issues of attraction, recruitment and retention of people with disabilities within the technology industry with conversations including the questions: When does someone disclose an impairment? What are the best reasonable adjustments? How accessible are online application forms? Why should employers hire people with disabilities?
The group spent the afternoon working together in masterclasses acquiring new skills and experience from The Blue Room team, design research methods from the BBC's User Experience & Design, and discovered how BBC iPlayer is responsively built for multiple screen sizes and devices and how the BBC Operations team keep BBC Online available 24 hours every day.
We spent the rest of the afternoon in a personal development session on overcoming obstacles of unconscious bias. This session explored our personal biases, how they impact upon recruitment and what tools we can use to overcome them. The workshop also focused on personal branding, self-belief and how best to sell oneself in an interview.
Dr Phil Friend closed the day with his keynote speech. Friend says "life deals us cards and we must play those cards to our best advantage". By the end of the day the mood in MediaCityUK was uplifting.
We hope that this event helped BBC Future Media challenge the underrepresentation of people with disabilities working in the team. We addressed some of the myths of working in our industry and showcased the inclusive culture that the BBC already has. Ultimately, we opened our doors to a diverse community of people with essential abilities, skills and experiences, which are crucial in delivering greater value and quality to our audience, who, quite rightly, expect nothing less. One attendee told me that he always thought the BBC was a diverse organisation but now he knows that we are serious about it.
Toby Mildon is Diversity & Inclusion Lead, BBC Future Media