When the BBC sold Television Centre to property developers Stanhope in July 2012, I was assigned the mammoth task of de-commissioning and removing all of the IT and broadcast equipment which had supported hundreds of hours of programme-making for the past 50 years – not a job for the faint-hearted.
Once the last of the programme-makers had left in March 2013, we started the enormous job of unravelling the entire infrastructure that had kept the BBC on-air. This amounted to some 14,000 pieces of kit, 4,000 items of which we have successfully redeployed back into the BBC, either to support major broadcast projects such as the Commonwealth Games and Scottish independence referendum or to refresh site and studio kit in the nations and regions, saving an approximate £3.5 million in the process.
And in our drive to save more money, the BBC is selling off technical equipment no longer needed or that we're unable to re-assign to other parts of the BBC. That sale is being done in a public online auction which takes place later this month (you can view the online catalogue here).
We worked closely with BBC History during the de-commissioning process to ensure that items of significant historical value were retained as part of the BBC's heritage. But, having done that, we have still managed to fill Studios 7, 8 and 9 with kit from over 50 apparatus rooms as well as TV and radio studios. At times, it has felt like entering an Aladdin's cave, finding things as obscure as a Geiger counter, sound-effect doors and even an Amstrad emailer phone.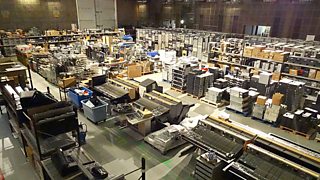 The Aladdin's cave of items which will be auctioned online
In addition to the office furniture you'd expect in a sale like this, there are various items of 'BBC memorabilia' like an old microphone from Lime Grove, signage from Television Centre and studio clocks. There should be something in the region of 12-1500 lots in the sale which takes place between 25th and 27th June.  
Be sure to take a look at the extensive list of lots in the auction. For more information on how to bid, visit www.ppauctions.com.
Andrew Wheeler is Project Manager, BBC Technology Delivery, Major Projects, Infrastructure.