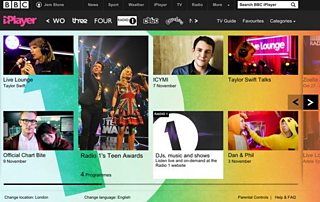 Radio 1 on BBC iPlayer
Last week the BBC Trust approved the BBC's proposal to launch a dedicated channel on BBC iPlayer for Radio 1 listeners. In this post, Controller Ben Cooper introduces the service and explains some of the thinking behind it.
Last month saw yet another report outlining the changing media habits of the UK. And as with most seismic changes, the younger end of the population are leading the charge. The report - Ofcom's report into children's media use - found that 1 in 3 children have their own tablet. This compares to 1 in 7 who have a radio in their bedroom.
That's just 14% of children (down from 43% in 2009) who are able to fulfil the cliché of listening to the radio under the covers. The options for what they do choose to do have never been broader.
For those of us who work in the radio industry, this is further statistical evidence of what we know anecdotally: if we want to remain relevant to young audiences, we need to have a presence on their screens.
Even the most passionate radio advocates know that we need to continue to evolve our offering and ensure we give our young audience a reason to forsake Minecraft and GTA and spend their precious screen time with us instead.
This insight has fuelled Radio 1's strategy over the last few years, a strategy known at the BBC as: Listen, Watch, Share. Listen is still the most crucial element, with Radio 1 continuing to reach around 40% of all 15 to 24 year olds in the UK every week.
Share informs both our social media activity and also the distinctive content that our production teams produce for our young audience. It has become a regular discipline to ask what element of a programme or event is shareable. Our listeners are an army of potential advocates, all with their own individual audience. So, we need to provide them with the content to spread amongst their networks.
Which leaves Watch. Up to this point we at Radio 1 have focussed our visual efforts on YouTube. Our successes have been well documented in this area, not least being recognised by the Guinness Book of Records when we became the first radio station to hit a million subscribers. We currently sit at somewhere over 1.6 million subscribers, and our videos have a combined watch time of over a billion minutes.
It is brilliant, short form videos – and we will continue to deliver this.
Greg James goes behind the scenes at Radio 1, introducing the station's new presence on iPlayer.
This morning, our place on the tablets (and the phones, the laptops and the TVs) of the nation's youth becomes even more established, as a
Radio 1 channel
is launched in BBC iPlayer.
Our launch programmes give a sense of what is to come: Live Lounges with Taylor Swift, Royal Blood and Adele; the very best of Radio 1's Teen Awards; brand new talent, including Zoella and Thatcher Joe filmed making their Radio debut; and, Jack and Dean hosting a brand new Official Chart Bite. The kind of programmes that you cannot see anywhere else but Radio 1.
What you'll find on iPlayer will focus on Radio 1 live events, our family of brilliant presenters, and, of course, the lives of our young audience. Underpinning much of this is our dedication to discovering and curating the best new music.
It certainly feels exciting to see it come to fruition - having been a year since it was first mentioned (we like to get on with things in the nimble radio industry). Our challenge is to continue to develop a proposition that both brings new young audiences to BBC iPlayer and also acts as another access point for audiences to discover the breadth of incredible content that Radio 1 delivers.
Ben Cooper is Controller, BBC Radio 1