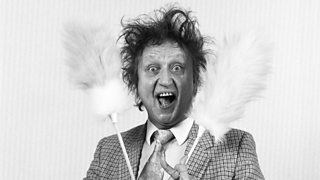 A round up of BBC announcements, press releases and blogs, plus some highlights from our TV, radio and online output from the last week.
Sir Ken Dodd
BBC Two announced this week a special documentary celebrating the life of comedy legend, entertainment icon and British national treasure Sir Ken Dodd.
CBeebies Christmas Show
CBeebies announced this week that Thumbelina is the Christmas show for 2018.The Regent Theatre in Stoke-on-Trent will host this year's ever popular and highly anticipated CBeebies Christmas Show with the pre-school audience being offered even more ways to experience the magic.
Announcements and blogs

Drama
Alfred Enoch, Ashley Jenson, Richard Rankin and John Hannah are confirmed to star in the second series of BBC One drama thriller, Trust Me.
Meanwhile, the network announced major staff changes at Holby City - Dawn Steele and Nic Jackman will become two of the latest recruits to tread the wards of BBC One's long-running medical drama. They will also be joined by fan favourite Camilla Arfwedson, who is due to reprise her role as Zosia March for a period in the spring.
Comedy
Shooting has started on the second series of the BBC One comedy Hold The Sunset, written by Oscar-nominated writer Charles McKeown.
Meanwhile the network confirmed Have I Got News For You returns for its 56th series from 5 October at 9pm.
Entertainment
The BBC has confirmed the United Kingdom's participation in the 64th Eurovision Song Contest held in Tel Aviv, Israel next May; as well as opening the public song submissions to find the UK's entry.
BBC Arts
A new series of jazz programmes is set to appear across BBC Television and Radio this autumn, it was announced at the launch of the EFG London Jazz Festival (Monday 17 September), featuring star saxophonist Soweto Kinch presenting his first jazz programme for BBC Four.
Radio
BBC Radio 4 confirmed a major new podcast in the Intrigue strand - The Ratline, presented by barrister and writer Philippe Sands. In addition that Evan Davis has been appointed as presenter of the BBC Radio 4's PM programme.
Elsewhere, footballing legend Peter Crouch is to present a new weekly podcast on BBC Radio 5 live.
Meanwhile, BBC Radio 1Xtra today announced Kenny Allstar as the new presenter of the station's Friday night show (9pm - 11pm), beginning 12 October.
In Radio Drama news BBC World Service and the British Council, with co-producer The Open University, this week announced the winners of the 2018 International Radio Playwriting Competition.
And BBC Radio 2 has announced the full star-studded line-up for this year's In Concert series.
Regional
Duke Special is set to return with a new series of his Gramophone Club on BBC Radio Ulster, beginning on Sunday 23 September at 6.30pm.
Meanwhile in Wales, the Wales Sport Awards are back and nominations are open to find the community sport stars of the country. In addition this week BBC Wales unveiled full details of Festival of Funny - a month-long star-studded season of comedy this October.
International
BBC News Marathi is launching the BBC's first ever news bulletin for a mobile audience in India as part of a 24/7 video stream on the Reliance JIO TV app. Titled BBC Vishwa, the bulletin will broadcast live at 1900-1920 IST.
Blogs
This week's blogs were: A year of three new BBC services for Ethiopia and Eritrea; Legs and checkouts: behind the scenes at this weekend's Champions League Of Darts; BBC dominates at Rose D'Or broadcasting awards, plus the weekly BBC iPlayer Highlights 22-28 September 2018.
Broadcast Highlights