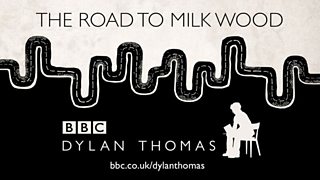 Ahead of Monday's launch of 'Dylan Thomas: The Road to Milk Wood', the ebook's Executive Producer, Robin Moore, explains why BBC Cymru Wales decided to celebrate the poet's life in a free multi-media ebook.
Monday 27 October marks the 100th anniversary of the birth of Dylan Thomas, one of the twentieth century's most important poets. During this centenary year the BBC has broadcast a huge range of programmes about the poet and his work, including the unfamiliar, such as his previously unheard The Beach of Falesa, and the familiar, with a fabulous new adaptation of his most famous work Under Milk Wood.
But how to end our Dylan Thomas season and create a fitting legacy?
Dylan Thomas was a truly innovative poet and storyteller, but he was also innovative in his use of the media of the day. He grew up making radio; edited and wrote for magazines from a young age; published his first book at twenty; wrote radio and film scripts; was a fine radio actor; appeared on television; and is credited with kick starting the audiobook industry with his recordings on vinyl.
So we started with the question: "what medium would Dylan Thomas be working on if he was alive today?"
Almost half of households have purchased a tablet computer over the last few years and they are changing the way we view content and run our lives. Apps and ebooks would have offered Dylan an exciting creative opportunity; mixing text, images, audio and video. They allow us to reflect the range of Dylan's work and the programmes the BBC has produced during the season.
Under Milk Wood is probably what most people know of Dylan's work, so we started with that. Working with Dylan's granddaughter, Hannah Ellis, we developed the concept of telling the story of the creation of Under MIlk Wood, and through it introducing the reader to Dylan's other work and his extraordinary life story.
We wanted this to be an accessible guide that you could read from end to end or just dip into at any point, with tasty morsels of audio, video and illustration peppered across the pages. This has been beautifully written for us by Jon Tregenna (who, as an aside, has himself appeared in two adaptations of Under Milk Wood).
In the book you'll find performances by Hollywood stars, long-hidden BBC archive material and, of course, Dylan reading extracts from some of his best-known poems and stories. All wrapped up in a beautifully illustrated story of the eventful life of arguably one of the UK's most interesting literary figures.
We couldn't reflect everything from the BBC's Dylan Thomas season, but I hope you will agree that here is a good selection to choose from. Dylan Thomas: The Road to Milk Wood is available for Apple, Android and Kindle Fire devices and there are instructions on how to download it for free on bbc.co.uk/dylanthomas.
Robin Moore is Executive Producer of the 'Dylan Thomas: The Road to Milk Wood' ebook.