BBC World Service: Living with Shakespeare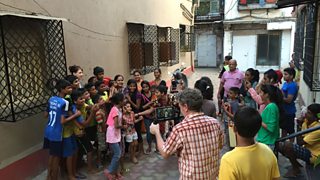 Filming with Bollywood actor Kalki Koechlin in Mumbai
Jonathan Wells and Deborah Basckin are producers of 'Living Shakespeare', a series of programmes for BBC World Service, BBC World News television and bbc.com, in partnership with the British Council and Open University. Here they share the background to the series and contributors.
'Excuse me, would you mind, like, saying some Shakespeare for the BBC? Just look into the lens. Yep, just like that, ok, thanks! Bye!'
That's, honestly, what we've been doing the past few months. Asking people on the streets of Beirut, Johannesburg, Mumbai and Beijing to recite Shakespeare. And we've met with nothing but enthusiasm.
Because Shakespeare lives.
400 years on, and he's on our stages, in our language and by our bedsides. And if Shakespeare lives, we thought, let's put his words into the mouths of people around the world. Let's show them actually LIVING Shakespeare.
And when the British Council and Open University approached the BBC World Service to transform the stories of distinguished people's relationship with Shakespeare into TV, we jumped at the opportunity. The British Council asked several global luminaires to write an essay about their personal experiences of Shakespeare. It was our job to unravel 2,000 words and bring them to the screen.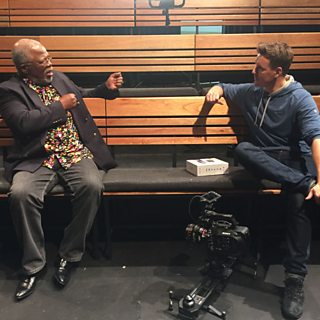 Cameraman Chris West talking with Dr Kani in Johannesburg
We chose five cultural figures from a variety of professions from across the continents, all with an illuminating tale to tell. For them, Shakespeare was more than a touchstone for universal experiences, his work and its impact related to specific historic moments in their lives and their countries.
We divided the contributors between us and travelled as teams of two to meet our illustrious collaborators.
When Dr John Kani played Othello in Johannesburg during apartheid, he wasn't just playing a role. He was defying a government, 'tackling racism head on'. When he walks the streets of Joburg in our film, he talks us through the change he sees – with some help from the city's residents – but also asks if, like Iago, racism is left alive.
Shakespeare was banned during the Cultural Revolution and a total mystery for author Hong Ying when young. She remembers her neighbour being arrested for being gay and having a copy of 'these things called sonnets'. As China opened up to the world, Shakespeare was heralded as a hero for underground artists, and today, as her friends explain in our film, the sonnets really resonate with the growing openly gay community in Beijing.
Dame Evelyn Glennie was kind enough to take us into her home to demonstrate some of the instruments she'd use to paint the 'sound colours' of Shakespeare's Tempest. With her deafness no impediment to the noise and music in Shakespeare, she ties her own experience of growing up in Aberdeenshire to hear through her bones and muscles.
'We're all modern Ophelias,' according to Kalki Koechlin. As one of the most visible actors in India today, she's had firsthand experience wrestling the double standards to which women are held. Lauded by fans, castigated by critics, life as a Bollywood actress in Mumbai is anything but straightforward. Filming with Kalki, talking to Mumbaikars, it's clear the parallels between India's women and Ophelia in Hamlet are real.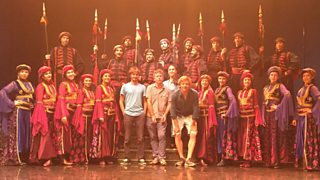 Producer Jonathan Wells with cameramen Derrick Evans and Nicholas Hameon and the Caracalla dance company in Beirut
The Bard spent his so-called missing years in the Middle-East - so says choreographer Alissar Caracalla. In Lebanon, a country that has seen too much conflict and pain, dance, like Shakespeare, is a unifying force. Devised in the mountains during the closing months of the Lebanese civil war, her production of A Midsummer Night's Dream in the Nineties became a seminal moment in her company's 50 years' history. Alissar Caracalla speaks of the power of Shakespeare and dance, a magical combination that can provide hope in seemingly hopeless times.
These films are unusual yet extremely powerful thanks to the figures who've allowed us to hear their stories of living Shakespeare. We have ended up with a series that we hope really illustrates the continued influence of Britain's greatest export.
Go on, give it a try: wherever you travel, wherever you are, ask someone to recite a couple of lines. See what happens.
The Living Shakespeare series went live on bbc.com/livingshakespeare on 5 September. BBC World News television will broadcast one episode a week at 05.55, 10.55, 12.55, 15.50 and 18.55 GMT. The films are made in Arabic, Chinese, Hindi and English - and are translated for use across BBC World Service's multiple language outputs.

Jonathan Wells and Deborah Basckin are producers of 'Living Shakespeare'.