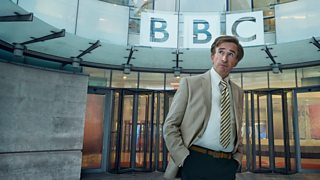 A round up of BBC announcements, press releases and blogs, plus some highlights from our TV, radio and online output last week.
Partridge back at BBC
Filming began this week on This Time With Alan Partridge, the new Partridge project coming to BBC One later this year, a quarter of a century after his BBC debut.
BBC to ban single-use plastic
On Tuesday we announced a three-step plan to remove single-use plastic from our operations by 2020.
BBC launches distribution policy consultation
This week we launched a public consultation on our new distribution policy.
Announcements and blogs
Drama
Tom Burke and Holliday Grainger will return for Strike - Career Of Evil, the third story from The Strike Series, based on J.K. Rowling's best-selling crime novels written under the pseudonym Robert Galbraith.
On Wednesday we published the media pack for new BBC One drama Troy: Fall Of A City written by David Farr, (The Night Manager) which begins on Saturday 17 February.
News
Esme Wren has been appointed as the new editor of BBC Newsnight. Esme is currently Head of Politics, Business and Specialist Journalism at Sky News. She will take on the Newsnight role later this spring. Esme replaces Ian Katz, who left the BBC in November 2017.
Radio
To celebrate the 40th anniversary of Douglas Adams's groundbreaking radio series the cult classic is returning to Radio 4 in March. The cast of Hitchhiker's Guide To The Galaxy: Hexagonal Phase, Simon Jones, Geoff McGivern, Mark Wing-Davey and Sandra Dickinson will be joined by guest stars including Lenny Henry, Ed Byrne, Jane Horrocks and Professor Stephen Hawking.
Factual
This week BBC One launched a brand new daytime series following people who want to realise their dream to Get Away For Winter by renting a piece of paradise abroad.
Meanwhile, BBC Two confirmed on Tuesday that Cambridge classicist and cultural broadcaster, Mary Beard, will present the forthcoming series of Front Row, which will broadcast - for the first time - live on Friday nights at 11pm.
Comedy
The media pack for new BBC One comedy starring Alison Steadman and John Cleese Hold the Sunset was published this week.

Sport
Former Scotland fly-half and legendary BBC radio commentator Ian Robertson has announced he is to retire at the end of this year, after 46 years as sports commentator for the BBC.
BBC Radio 5 live announced it will partner with The FA People's Cup and Sport Relief to host 12 straight hours of 5-a-side football matches, with Robbie Savage as captain of a celebrity Sport Relief All Stars team.
Children's
CBBC announced this week that naturalist and adventurer Steve Backshall will attempt to climb the most iconic vertical mile of crumbling ice and rock in the world, the North Face of the Eiger, Switzerland, for a new CBBC documentary Steve Backshall Takes on the Ogre.
Appointments
Former editor of Radio 4's Today Programme, Jamie Angus was this week appointed to the role Director of the BBC World Service Group, previously held by Francesca Unsworth.
Blogs
Daniel Wilson, Head of BBC UK Policy introduced the Distribution policy consultation, we also published the weekly BBC iPlayer Highlights 17-23 February.
Broadcast Highlights