Get inspired with The Great North Run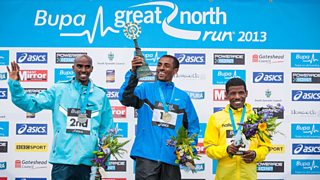 Kenenisa Bekele, Mo Farah and Haile Gebrselassie win at the Great North Run 2013
This Sunday (7 September) the Great North Run will make history when it becomes the first running event to celebrate its millionth finisher. This is an astonishing achievement for an event that has become one of the highlights of the year in the North East. It is the most iconic half marathon in the world, and Britain's biggest running event.
This year 120,000 applied to run, and 57,000 were accepted to be set off by Lord Sebastian Coe at the start in Newcastle, passing through Gateshead, before finishing 13.1 miles later in South Shields. 108 of those have managed to run every year since Brendan Foster, one of the region's proudest sons, started it all, 34 years ago.
Those dedicated runners will have seen the event grow enormously, both in its stature in athletics, and in how it is cherished by the whole area that hosts it. It sets a formidable standard for encouraging mass participation running, and one lucky runner will be recognised at the finish as the millionth by Coe and Foster.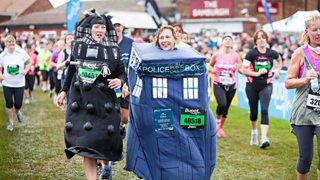 Down the years, the stars leading the race have included the very best in elite running,  including Paula Radcliffe, Liz McColgan, Tirunesh Dibaba, Rosa Mota, Sonia O'Sullivan; and last year saw a fantastic clash involving three all-time greats - Mo Farah, Haile Gebrselassie and Kenenisa Bekele - in as good a road race as you could hope to see. This year we are hoping for more of the same as Mo is back to take on the reigning Olympic and World Marathon Champion Stephen Kiprotich.
Among those further down the field will be Radio 1's Greg James, Rachel Burden, Ellie Oldroyd and George Riley from 5 live and One Show regulars Angelica Bell and Iwan Thomas.  BBC Breakfast presenters Bill Turnbull and Steph McGovern are running in honour of their wonderful late editor, Alison Ford, who so sadly died last year.
The BBC has been associated with this marvellous event from the outset, and this year will be covering it more extensively than ever, to reflect the special significance of that million number milestone. The results of Brendan's brilliant vision will be all too clear, in this most heart-warming and inspiring combination of top-class distance running and exuberant participation.
Ahead of the run itself, our BBC colleagues in the North East have been featuring runners' stories all this week. Alfie and Charlie on Radio Newcastle's Breakfast show have been looking forward to the big race and tomorrow they will bring all the reaction from tonight's Opening Ceremony.
Over on TV, Look North will tonight come live from the Quayside for the ceremony which will feature performances by Mark Knopfler, Chase and Status and The Unthanks - edited highlights will be played into our main TV coverage on Sunday.
On Saturday afternoon (6 September), we will present the popular Great North City Games from the quayside on BBC One from 2.30pm.
And then to the main event, when on Sunday morning,  21 cameras, including radio cameras on motorbikes, jibs and the vital helicopter camera will capture both the elite races and the mass run, with all those memorable pictures.
You can catch all the action and stories live on BBC One from 9.30am, when presenter Jonathan Edwards will dash from the start to the finish to cover both ends of the race. Meanwhile, Steve Cram, Andrew Cotter, Brendan himself and Paula Radcliffe will provide expert commentary, and we will have on-course reporters catching those runners on the road who are willing to stop and tell their Great North Run tale. You can of course watch all this live on our website, wherever you may be on Sunday.
Radio 5 live will also cover the race live, with Jonathan Overend presenting, and Chris Dennis and Alison Curbishley commentating.
We are encouraging runners to use #BBCGNR, so we can use the best content, video and comments, in our broadcasts. And, if you are inspired by what you see check out our Get Inspired website where you can find ways to turn that inspiration into participation.
It should be a terrific few days in the North East, and I really hope you enjoy all our coverage across the BBC
Philip Bernie, Head of TV Sport at the BBC
The Bupa Great North Run will be broadcast live on Sunday 7 September on BBC One from 9.30am-12noon and on BBC Two from 12noon-2:30pm. Highlights on BBC Two at 6pm.

Watch all the action and find out more on the BBC Sport website
Get involved at the Get Inspired website