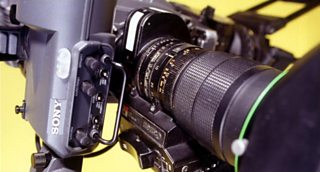 About six months ago, Albert started working at the BBC. Albert was tasked with helping our programmes become more 'sustainable' and quickly became well known for asking difficult but important questions to which we didn't always have the answer. Albert was available for work 24/7, never slept and never left the BBC.
OK no surprises, Albert's not a person, it's an online tool, a carbon calculator which was built at the BBC specifically to work out the carbon emissions of any TV programme. 'Albert' was a working title that just happened to catch on.
Albert enabled us to quickly and cheaply learn what a typical hour's worth of BBC TV production means in terms of greenhouse gases. Greenhouse gases mean climate change - we want our programmes to change the world - but not in that way! So the goal is to drive down emissions and drive up production sustainability...
Up to now, as I say, Albert's never left the BBC - it lives on our intranet site. But in the autumn that will change. We've formed a partnership with BAFTA and we'll be sharing Albert with the rest of the UK TV industry. Channel 4 and ITV have committed to using the new-look Albert along with indies, IMG, Kudos, Shine, TalkbackThames and TwoFour.
This is just the beginning of a great partnership and if you want to be involved, get in touch with BAFTA.
Our aim is for the UK to lead the world in the area of sustainable production and we will meet every month to discuss how we can improve Albert and to share best practice...
Albert's not moving house by magic so the BAFTA group has an equally impressive list of technical partners, all working with us on a charitable basis: AMEE, Aerian Studios, Microsoft, Mason Hardy, Outsourcery, Sharepoint City - all ensuring Albert is a practical tool that speaks the language of programme makers while based on a solid foundation of scientific know-how behind the scenes.
Tracking carbon is a moving target, particularly to an industry like ours that's not used to doing it. So in the words of the founder of AMEE - the people the Department of Energy and Climate Change use to check their sums - Albert is 'a fantastic prototype', not the definitive article. Mike Berners-Lee, author of a book called The Carbon Footprint of Everything, has likened today's carbon footprints to the maps drawn up by the ocean-going pioneers who first explored our world: full of uncertainty, with holes around places where we've not been yet, but essential as a first step towards getting us to the next level of knowledge.
Albert is the UK TV industry's first carbon map, our first step. The BBC will be publishing some Albert data later this year. Through our partnership with BAFTA and all the organisations listed above, the map will become more detailed, a little more complete, pointing us to where we need to go to build a sustainable future for content production.
Sally Debonnaire is Controller, Production Operations at the BBC
Read the BBC's press release about Albert's new departure on the press office web site.
The BBC's Head of Partnerships, Adrian Ruth, wrote about some recent breakthroughs here on the blog on 3 May.
The picture shows a TV camera in use at the BBC. It's from the BBC's picture library.