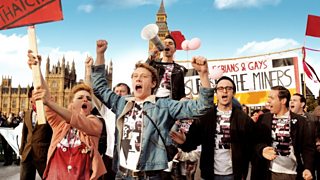 The British Independent Film Awards took place last night (Sunday 7 December) at a ceremony in London, where BBC Films' Pride was the biggest winner of the evening.
The film, which is set in 1984 and tells the story of a group of gay and lesbian activists who decide to raise money to support the families of the striking miners, took home three awards. These were for Best Film, and Best Supporting Actor and Actress for Andrew Scott and Imelda Staunton.
Another BBC film, The Goob was awarded Best Acheievement in Production. Elsewhere Sherlock's Benedict Cumberbatch won the Variety Award and Emma Thompson the Richard Harris Award for outstanding contribution by an actor to British Film.
Congratulations to all the winners - full details are available on the BIFA website.
Hannah Khalil is Digital Content Producer, About the BBC Website and Blog.