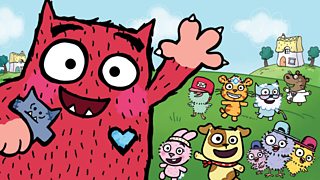 Love Monster
Love Monster, a quirky new animation for pre-schoolers full of fun and adventure, bounces onto CBeebies from 27 January, available every weekday and continually on BBC iPlayer. The wonderfully warm and witty preschool series is based on the best-selling books by Rachel Bright.
Celeste wins BBC Music's Sound of 2020
Celeste has been crowned the winner of BBC Music's Sound Of 2020. The British-Jamaican singer was chosen by a panel of 170 influential music experts, including alumni artists Billie Eilish and Lewis Capaldi as well as DJs, radio and TV producers, journalists, streaming experts and festival bookers.
Radio
The finalists for the 2020 BBC Audio Drama Awards, hosted by Meera Syal on 2 February, have been revealed.
The 6 Music Homecoming Tour sees Steve Lamacq take his BBC Radio 6 Music show to five UK cities during Independent Venue Week 2020 (IVW) which returns for a seventh year, celebrating smaller and grassroots music venues.
Comedy
The Offenders is a series from multi-award-winning writer and director Stephen Merchant, originally created by Merchant and Elgin James (co-creator of US series Mayans M.C.)
Drama
Following Doctor Who's explosive return to screens on New Year's Day, stars of television Warren Brown and Matthew McNulty are set to guest star in an upcoming episode as team TARDIS work to solve a mystery which threatens the entire planet...
Factual
BBC One announces a magical new commission, Fantastic Beasts: A Natural History. Produced in partnership with Warner Bros. and London's Natural History Museum and presented by Stephen Fry, the documentary will explore the origins and stories of mythical creatures and the fantastical beasts from J.K. Rowling's stories and explore their history and connections with animals roaming the planet today.
The BBC is marking Holocaust Memorial Day (27 January 2020) and the 75th anniversary of the liberation of Auschwitz-Birkenau with a special televised Holocaust Memorial Day event, as well as a range of content across TV and radio.
A mystery disappearance, a suspected secret guarded for 16 years, a murder trial in search of answers - two-part documentary Murder Trial: The Disappearance Of Margaret Fleming has unprecedented access to the investigation and subsequent trial of co-accused Edward Cairney and Avril Jones, the first time a murder trial has ever been filmed in Glasgow High Court.
Later this year BBC Two will screen Tigers: Hunting The Traffickers, a one-hour documentary from Grain Media in which former Royal Marines Commando Aldo Kane exposes the shocking secrets of the illegal tiger trade in South East Asia and those who profit.
Digital
A bumper crop of Christmas specials and new programmes helped BBC iPlayer to its best festive fortnight ever. The holiday period (20 December – 2 January) was BBC iPlayer's biggest on record, with 203m requests*to stream or download programmes, up well over a third on the same period last year.
World Service
On 14 January, BBC World Questions comes to Lisbon to bring together leading politicians and the public to discuss the issues that matter to Portuguese people - education and public health, the environment, housing, tourism and how best to grow the economy.
Corporate
BBC responds to the National Audit Office's report: BBC Studios. We welcome the report's findings that we had a clear rationale for creating BBC Studios, we planned well and the merger has got off to a good start following the launch of the new BBC Studios in April 2018.
The BBC unveiled a new package of support for small and emerging indies (with turnovers of less than £10m per annum) designed to help boost the strength of UK production in the context of global competition and producer consolidation. The initiatives will have a strong focus on diverse and out-of-London producers.
BBC statement on Samira Ahmed tribunal judgement. A BBC spokesperson said: "Samira Ahmed is an excellent journalist and presenter and we regret that this case ever had to go to Tribunal.
Broadcast highlights