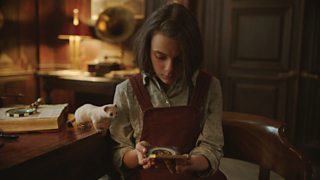 His Dark Materials is a BBC and HBO adaptation of Philip Pullman's acclaimed series of fantasy novels.
The series follows Lyra Belacqua, a young girl who embarks on a dangerous journey of discovery from Oxford to London and around the world.
Who's in His Dark Materials?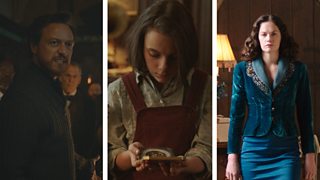 Dafne Keen. Dafne's first role was as Ana in Spanish drama The Refugees. Her breakout role was as Laura / X-23 in the film Logan, His Dark Materials is Dafne's first role for the BBC. Keen plays Lyra Belacqua, the young protagonist of the story who lives in Jordan College, Oxford.
James McAvoy. James' first role for the BBC was in anthology drama Murder In Mind. Since then he's made his name in films playing varied roles, including Bruce in Filth and Professor Xavier in the X-men series. McAvoy plays Lord Asriel, an explorer and Lyra's uncle.
Ruth Wilson. Ruth's first role for the BBC was as Jayne Eyre in the 2006 adaptation. Her breakout role was as Alice Morgan in BBC drama Luther and has recently played her own grandmother, Alison Wilson, in Mrs Wilson. Wilson plays the glamorous and mesmeric Mrs Coulter, who comes to take Lyra away from Jordan College.
When is His Dark Materials on TV?
His Dark Materials starts at 8pm on Sunday 3 November on BBC One and BBC iPlayer.
Here's the trailer...
Don't miss His Dark Materials at 8pm on BBC One and BBC iPlayer on Sunday 3 November.