We've had an interesting cross-section of announcements this past week, which illustrates perfectly the scope of the BBC's activities. I've included a handful below.
On Monday, Chris Evans announced live on BBC Radio 2 the return of our short story competition for children. Called 500 WORDS, entrants are challenged to pen an original work of fiction using no more than, you've guessed it, 500 words. It is run in association with the Hay Festival and judged by Richard Hammond, Dame Jacqueline Wilson, Malorie Blackman, Frank Cottrell Boyce and Charlie Higson. The closing date for entries is 22 February and full details about the competition can be found on the dedicated 500 WORDS website.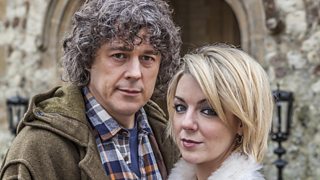 The popular drama Jonathan Creek, starring Alan Davies and Sheridan Smith (pictured), is set to make a return to BBC One this Easter.  As well as the two leads, we also confirmed that former Young Ones housemates Rik Mayall and Nigel Planer will be joining the cast, alongside two more BBC comedy greats, Joanna Lumley and Sarah Alexander.
The BBC's on-demand service, BBC iPlayer, saw record-breaking numbers of requests in 2012. Audiences spent 34% more time watching TV via iPlayer than ever before. The Olympic Opening Ceremony topped iPlayer viewing with 3.3m requests, followed by Top Gear with 2.8m and Sherlock with 2.5m. The total number of requests for TV and radio in 2012 was 2.32 billion.
One of things I look out for in my job is content that attracts an active online following that enjoys sharing material and discussing favourite programmes on social media. One of these is BBC Three's supernatural drama Being Human, which returns to the channel on Sunday 3 February. There are some great interviews with the cast and lead writer Toby Whithouse here.
Sport is, of course, also very popular online, so Wednesday's news of our coverage of Rugby's 6 Nations tournament was very welcome. Matches will be live on BBC One and BBC One HD, and will also be streamed via the BBC Sport website, as well as on mobile and connected devices. There's also coverage on Radio Five live. Great news also that former England coach Sir Clive Woodward will be joining the team. Coverage starts on 2 February.
And finally, tomorrow night sees Bill Gates give the 2013 Dimbleby Lecture, which will be on BBC One at 10.35pm. In it he will outline the efforts being made to eradicate polio through the work of the Bill & Melinda Gates Foundation and the Global Polio Eradication Initiative.
Ben Murray is Editor of the BBC Media Centre.
Follow @BBCPress on Twitter.