Since BBC iPlayer launched on Christmas Day 2007, there have been over 14 billion requests for TV and radio programmes. You'll see from the chart below that the last 12 months alone have seen a record-breaking 2.6 billion requests for TV programmes - up 10% on the previous 12 months - and November, December and January saw the biggest three months in iPlayer's history. It's a fantastic place to be.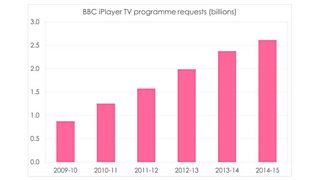 As many of you know, each month we publish iPlayer's performance, listing everything from the number of requests, top programmes and the devices people are using iPlayer on. After March's pack was published, there were a number of articles suggesting iPlayer's popularity is on the wane –and March was the first dip in iPlayer's history (which you'll see is not true).
With April's stats now in, I thought it would be useful to put this in context, correct some misleading headlines – and share a bit more around the trends we see in iPlayer usage.
Winter peaks
You can see in the chart below that iPlayer usage changes significantly depending on the season with higher volumes of requests in the autumn and winter months, and lower volumes in the spring and summer. Within this, there are also times, for example around the London 2012 Olympics, where specific content or a major event bucks the iPlayer trend – with high levels of usage in the summer months. Also, as the majority of iPlayer consumption is still catch-up TV, there is a strong link between what's broadcast on 'telly' and programmes requested on iPlayer.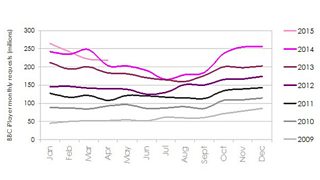 The challenges of capturing iPlayer performance
Changes in iPlayer performance can also, unfortunately, be the result of measurement issues. When BBC iPlayer launched back in 2007, we only had to capture computer usage of a single website. Now iPlayer is available on over 1700 different devices and platforms – ranging from Smart TVs, Games Consoles, mobiles, tablets and obviously still on computers. Making sure we successfully capture all usage is an ongoing challenge and in recent months we know we've significantly undercounted requests from TV devices.
In March for example, we estimate the volume of missing requests to be around 17 million – but it's not possible to verify this – we don't include this in the pack we publish.
We also don't include what we call 'short-form' and 'off-schedule' like our popular iPlayer exclusives including Frankie Boyle's Election Autopsy and Adam Curtis: Bitter Lake in order to make comparing month-on-month usage more meaningful.
The growth of video on-demand in the UK
BBC iPlayer is still seen by many as the leading service of its kind in the world, and I'm really proud of this. We constantly look at feedback and work with our team to make it even better – with the catch-up window extending from 7 to 30 days, mobile downloads – as well as a host of new features on their way over the coming months. And, we also have an exciting range of content exclusive to iPlayer coming up – you're in for a treat with British Muslim Comedy in June.
But, we know even though iPlayer usage continues to grow, it won't be at such a rapid pace. There are, after all, a limited number of people in the UK and those who are most comfortable using video on demand services like BBC iPlayer.
The challenge for us now is to get everyone using iPlayer – whether that's to make the journey to work better, the holiday in the middle of no-where in the rain more enjoyable or just easily catch-up on what you've missed from the comfort of your sofa.
The market has also changed significantly since iPlayer launched, with a host of new video on demand services now available in the UK. What's remarkable is how iPlayer has not just maintained but continued to grow its usage with the increasing number of video on-demand services
I'm really excited about iPlayer's future - making the best service of its kind in the world even better. We want a thriving video-on-demand market in the UK and will continue to share our stats on the future performance of BBC iPlayer, whether it's a strong month or a seasonal dip. I'm looking forward to an exciting time ahead.
Dan Taylor-Watt is Head of BBC iPlayer.